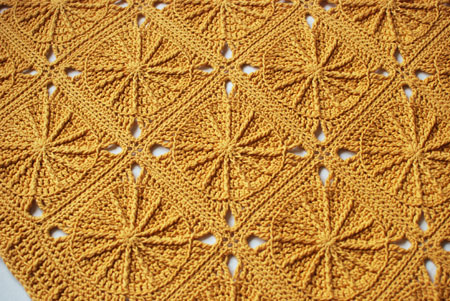 Pattern: Sunny Spread blanket by Ellen Gormley. This is a wonderful pattern, and works very well as an easy, portable project because it's constructed from individual squares. I wish the pattern included the dimensions of an individual square, as well as an idea of how much yarn is used for the main portion of the blanket versus the border.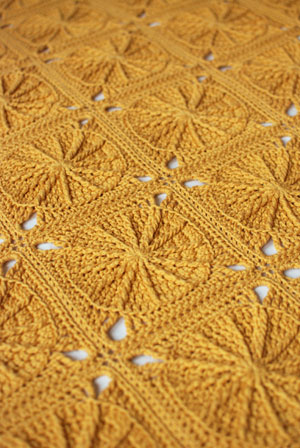 Yarn: Berroco Weekend in the 5921 (banana) colorway. A lovely, happy, unisex yellow ;). I used about 11 skeins for the main part of the blanket and a little less than 2 skeins for the border. The yarn crocheted very nicely and has a lovely drape. I had to wash the blanket by hand (because the washer was broken, again), but wouldn't hesitate to machine-wash in the future. I'll be sure to relay the care info to the recipient. I originally purchased 15 skeins from WEBS, so I even have enough left over for a little baby jacket :).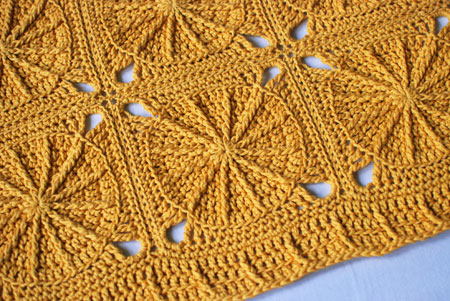 Crochet hook: Brittany Birch, size H (5.0 mm). I'm typically a metal hook/needle lover, as you know. I initially purchased this crochet hook because I was flying through Heathrow, and was warned against carrying any metal implements through security there. As it ends up, I really enjoyed using it, and have since purchased a few additional sizes!
Finished size: This blanket is composed of 7 squares x 9 squares, and each square is about 5.5″ along the side. The overall finished blanket is about 41″ x 55.5″. In my opinion, this is a very sizeable baby blanket, or a comfortable lap throw. Here it is on our queen-sized bed: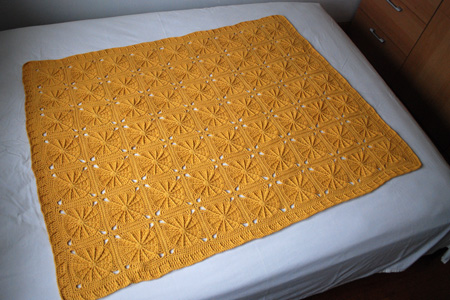 Other than the number of squares, I only made one modification to the pattern (and it was an inadvertent one, at that): I seamed the squares together using the backs of the loops only. I liked the way this outlined each individual square, though, so it's a modification I'm happy to keep!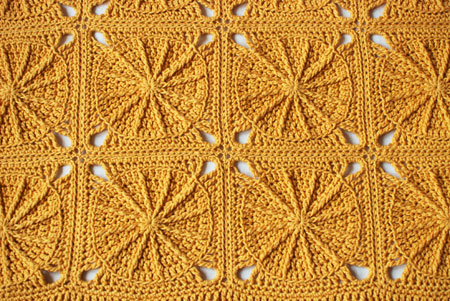 15
likes