When looking for a new baby pattern to knit, I almost always first browse my copy of Kristen Rengren's Vintage Baby Knits
(my review/preview here). Even though I've knit a number of patterns from this book already (some as samples and others, later), I seem to find something new and interesting every time I flip through.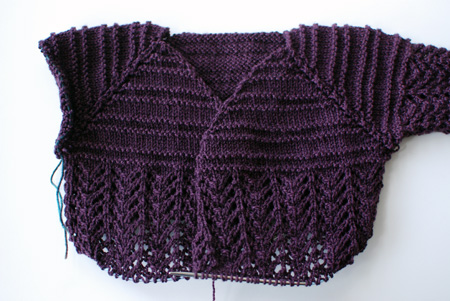 The latest little thing is the Betty Lou Lace Cardigan. Adorable! I'm knitting the smallest size and it's going by quickly. So far I've made one modification: substituted the original lace pattern with Gull Wings from BW #1
. The original stitch pattern from the book was a real pain in the butt to knit, and tended to bias, so I followed FlickaFish's lead on Ravelry and substituted something simpler. It seems I'm not the only one :).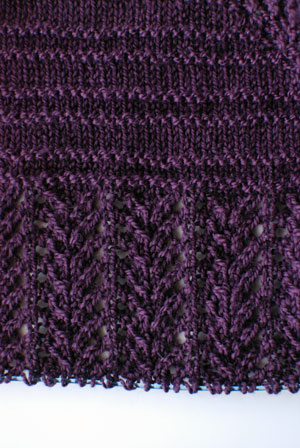 The yarn I'm using is fingering weight 100% merino from Louet in the eggplant colorway. A reader gave that to me many moons ago when she decided she didn't really like it. Well, I think it's working out fabulously in this project! The book states that 4 skeins will be needed, but I think I may get away with using only 3. Then again, I'm not sure how much yarn those pom-poms will eat up. I've never made a pom-pom before, actually, can you believe it? I think a pom-pom maker
is in my future ;).
0
likes