The best part about working on the Volna pattern was discovering new-to-me Noro yarns which I didn't find itchy or too wooly. If you remember, that was my biggest obstacle in working with Noro yarns in the past. Today I'm happy to share with you my thoughts on three not-terribly-wooly Noro yarns, in particular.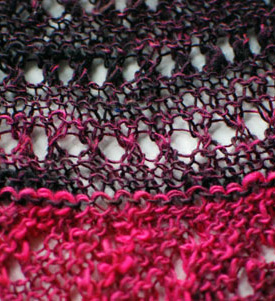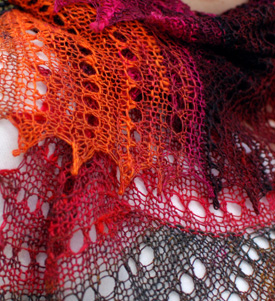 Noro Kirameki, color 156, unblocked and blocked.
This single ply, laceweight yarn is composed of 60% rayon, 25% nylon, 10% wool, 5% cashmere, and contains 492 yds/450 m per 50 g skein. I think it's a fairly new addition to the Noro line-up: when I first bought it back in September, I believe it wasn't even listed in Ravelry yet! The most striking aspect of Kirameki is the beautiful colorways in which the yarn is available. They are deep and saturated, and transition slowly and beautifully.
The yarn itself is quite thick 'n thin, with some sections as thin as heavy thread, and others, fluffy and full and easily sportweight. I found the yarn to be very crisp, and to have an unexpected amount of body considering its thinness. It also tended to stick to itself while knitting, though this tendency was washed away (literally) with blocking. The rayon and nylon content gave the yarn a beautiful sheen comparable to that of silk. Kirameki was the only Volna yarn that did not have a single knot in it!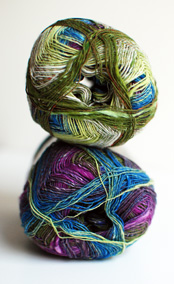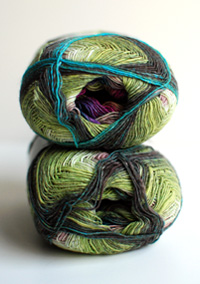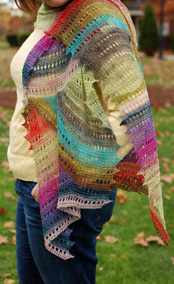 Noro Sekku, from left to right: color #5, color #6, and color #6 knit up (yes, the middle and right pictures are really the same colorway!).
This single ply, laceweight yarn is composed of 50% cotton, 17% wool, 17% nylon, 16% silk, and contains 459 yds/420 m per 50 g skein. More than anything, it feels like cotton! In my mind the closest yarns to Sekku, in terms of feel, are Mission Falls 1824 Cotton and Manos Cotton Stria. The yarn knits up with a beautiful drape that's only enhanced with blocking. The stretches of color are rather short, and neighboring colors can be high in contrast. The result is that you will be captivated! Just when you're getting bored of navy – bam! – hot pink is next! If you're like me, you won't be able to put your knitting down just so you can see what's coming next.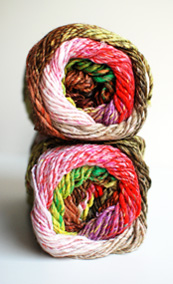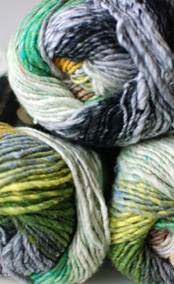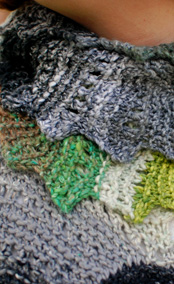 Noro Taiyo, from left to right: color #4, color #8, and color #8 knit up.
Noro Taiyo is a loosely spun two-ply yarn that's aran in weight. It is composed of 40% cotton, 30% silk, 15% wool, 15% nylon, and contains 219 yds/200 m per 100 g skein. In some ways, it very much reminds me of Noro Sekku – it also feels predominantly like cotton. However, because it is a two-ply yarn, it has a bit more body and substance, especially when it's knit into garter stitch. Unlike Noro Sekku, the number of colors explored in each skein of Taiyo is not as numerous – you will never feel like you're knitting the rainbow, and you can more easily classify each skein as predominantly green, or blue, or pink, etc.
The one interesting thing about knitting with Taiyo is that different sections of color have different textures. For example, the yellow and bright green bits of colorway #8 felt like pure cotton, whereas the black bits were furry and hairy like wool. I wonder if different color sections vary in their specific fiber composition?
– – – – – – – – – – – –
In the process of working on the pattern and auditioning different colorways, I acquired a few spare skeins of Noro Sekku and Noro Taiyo that I would like to share with you! I grouped the skeins so that each prize is enough to knit your own Volna scarf/stole, but of course you can use the prize for whatever pattern or purpose you want :).
There are 4 prizes in this giveaway:
Two skeins of Noro Taiyo in the #4 colorway. You could use this yarn to knit a cozy winter Volna scarf by following the narrow version of the pattern.
Two skeins of Noro Sekku in the #5 colorway. You can make a large lace Volna stole if you use the wide version of the pattern.
One skein of Noro Sekku in the #6 colorway. For a quick and easy lace scarf, knit the medium version of the pattern using this skein.
Same as 3 above (so, I have two of these to give away, and each one is a separate prize).
To enter this giveaway, simply leave a comment on this post before Friday, November 26th, 9 p.m. EST. Please read here for complete rules of this giveaway. Update: thank you for participating, the comments have now been closed.
Good luck! I hope you enjoy knitting with these Noro yarns as much as I did!
0
likes