A few years ago I showed you how I used some basic hardware ingredients to create a nifty earring organizer/storage/display. It's proven to be very convenient, because for me, I have to see the earrings to actually wear the earrings; jewelry boxes just don't work for me. And with this organizer, everything is nicely arranged and displayed. It definitely helps that French wire earrings are my absolute favorite to wear (as opposed to hoops, studs, leverback, etc.).
In the same spirit, I recently created a necklace organizer! I had my husband's help with the actual "making" but the design was all mine :).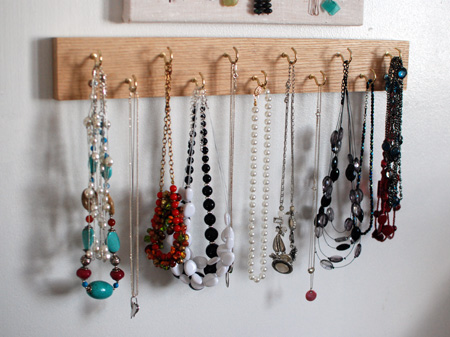 Ingredients:
Piece of oak wood, 18″ long, 2.5″ wide, ¾" deep.
1 package of 1″ cup hooks (there are 50 of these in 1 package).
Spare screws to mount on the wall.
Directions: Lightly sand the wood to make sure it's smooth. I considered lacquering mine with some semi-gloss polyurethane, but decided against it because the wood looked really nice as is. Use a pencil to mark the desired location of the hooks on the piece of wood. I spaced mine 1.5″ apart in a zig-zag pattern; they are ¾" away from the top and bottom edges of the wood piece. Use a thin drill bit (mine was 3/32″) to drill the holes for the cup hooks. Use a thicker drill bit to make some holes for mounting on the wall. I made 2 holes close to the edges of the wood. Screw in cup hooks by hand. Mount on wall according to the nature of your wall (brick is different than tile is different than drywall, etc.). Less than $6 and a few hours of work later, hang up your necklaces and enjoy!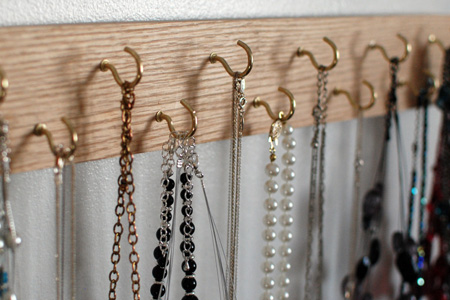 1
like