Wow. You guys. Thanks. I'm glad you love the scarf as much as I do! I have all kinds of grand plans for the pattern: a scarf version using laceweight yarn (as pictured in the post), a stole version using laceweight yarn (perhaps 24″ X 65″, or something like that), and a chunky scarf version using aran-weight yarn. It's time to knit like the wind, I tell you!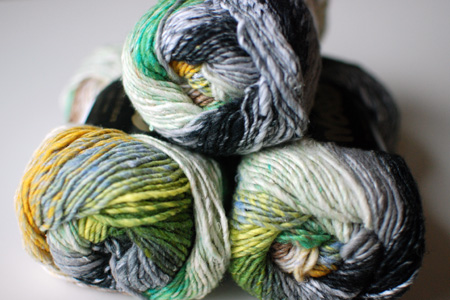 For the aran-weight version
But I'm a little bit torn because I also have a Rhinebeck hat and pattern to finish! This is proving to be a complicated pattern to write for me, because I have to estimate what it will look like on most people. You see, although I can rock most hats, slouchy ones are difficult. I have short hair which I prefer to wear out of my face and eyes, so a slouchy hat tends to engulf the whole mess despite my best efforts to keep the hat on the crown on my head, all cool-like! I look like I'm wearing a giant shower cap!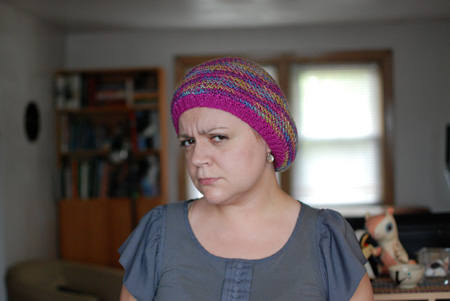 Dubious knitter is dubious.
I've been working hard to figure out the right hat circumference and slouchiness for the typical woman with a longer hairdo. And of course there's the issue of knitting a version that's not Smarties-colored :).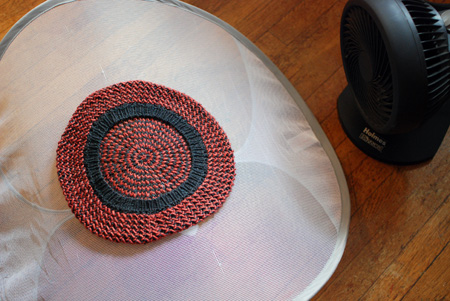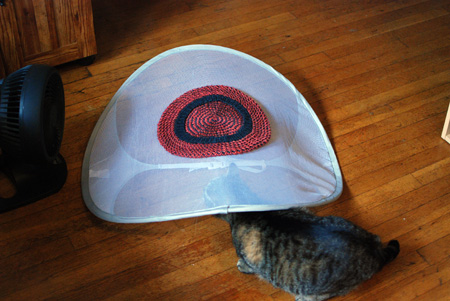 Curious kitty is curious.
This one is much more sophisticated, if you ask me. It's knit out of Lorna's Laces Lion and Lamb, in the charcoal and brick colorways. Very appropriate for fall! You can see that despite the chilly weather I have the fan going again, to dry the hat quicker, haha! I'm hoping that this version will be the last one. I know I have to go back and tweak the ribbing a little bit, but I'm hoping to do so à la Operation Orange Overload, instead of reknitting the whole thing ;). And then, finally, I can work on the lace scarf!
0
likes