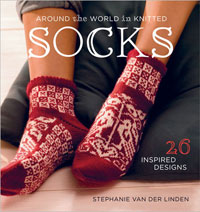 I recently purchased two books which I knew would be welcome additions to my knitting library. But, to be honest with you, I wasn't sure whether they would surpass my threshold for writing a review. To my surprise, I was instantly smitten! Today I will share with you my thoughts on Stephanie van der Linden's Around the World in Knitted Socks
(and the other book we'll talk about on another day).
Stephanie's designs are not new to me: remember the gorgeous Scala Socks I knit for my Sockapalooza pal more than three years ago? Yup, that's her design! I have several other sock patterns from Stephanie in my knitting binder (mostly in German), and I knew her book would be certainly worth a look.

The concept of the book is very simple: sock patterns (26 of them) inspired by different countries. The designs are gorgeous. They strike the perfect balance of being both unique, and recognizable enough to associate with the country they represent.
From left to right: Colors of the Andes for South America, Classic Kilim for Turkey, and Route 66 for the United States. Click on any picture to view bigger.
I think all of the patterns are worked from the top down with flap or short-row heels. All of them use Regia sock yarn, either the regular stuff or Regia Silk. While there are a few textured designs (lace, twisted stitches, even beading), I think the true value of this book is in the colorwork patterns. It's not just the use of more than a single color of yarn that's noteworthy; it's the addition of complementary cuffs and heels, interesting gusset shaping… all the details that take a stitch pattern and turn it into a complete sock pattern.
One side effect of this design approach is that many of the socks have unusual soles: not simply the standard checkerboard pattern. I had to chuckle at some of the ways the stylist chose to show this to us:
I don't think I've ever seen a kneeling picture in a sock pattern ;).
I made sure to check out the sizing of the patterns. It's something I always check for anything involving colorwork, since it's often very tricky to create charts for more than one size. This is my only criticism of the book: while the textured patterns are written for 3 widths, the colorwork patterns are mainly for one width only. The length is more flexible, obviously. I think the easiest way to make adjustments to the sock width would be to go up or down a needle size.
Check out more pictures of the patterns in the extended entry! Perhaps one will catch your eye? I know there are several here which I find nearly irresistible, and conveniently, I don't have any socks on the needles at the moment :).

(click on any picture to view bigger)
0
likes