One other thing in addition to my Massey Wrap is a constant reminder that fall is (finally!) here: Rhinebeck! I'm going this year, for the first time ever, and I'm very excited. I've been to sheep and wool festivals here in Massachusetts and New Hampshire, but never to the one in New York.
I didn't want to overwhelm myself, so I'm only going on Saturday, during the day. The rest of the weekend will be spent in the Berkshires, enjoying fall :). If you're also going to Rhinebeck, please say hello if you see me! It will be wonderful to meet all my long-time internet friends in person.
I briefly contemplated knitting a Rhinebeck sweater for the occasion. I actually really like this idea – knitting something brand new and exciting, wearing it in a crowd of people who totally understand, and doing so in time for the cold and dreary winter. But I'm not a sweater knitter, and couldn't I accomplish the same thing with a clever accessory?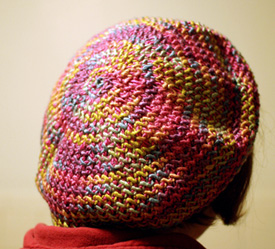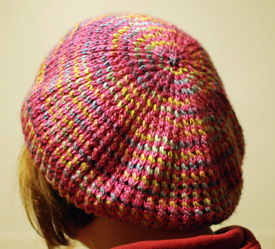 A sick day last week gave me a little time to swatch and play around, and this slouchy hat (or is it beret?) was born. I love it to pieces. It is reversible – yes, that's the same hat in those two photos! It is knit using two different colorways of yarn, but there's no jog or seam or carrying yarn up the side. It is incredibly simple to make, and uses very little yarn. And, yes, as soon as I knit a second prototype (in colors less reminiscent of Smarties), I'm writing up the pattern ;). My goal for publication is (you guessed it!) Rhinebeck :).
0
likes