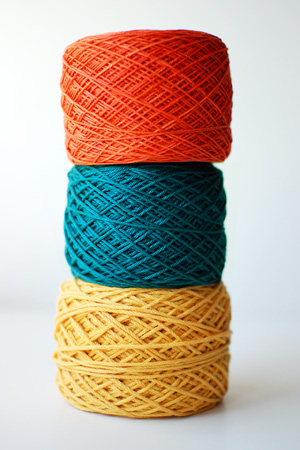 Currently playing with the following, trying to start several travel-friendly projects in time for my vacation:
Orange: Araucania Yarns Lonco, fingering weight 100% mercerized cotton, 440 yards per 100 gram skein. I got 2 solid-colored skeins of color #3003, tangerine at ImagiKnit during my trip to San Francisco last summer. I recently noticed elann has this very yarn and colorway on sale, at a very nice price. Currently auditioning: Cosmicpluto Laura's Massey Wrap using US 5 needles.
Teal: Cascade Yarns Ultra Pima, sportweight 100% pima cotton, 220 yards per 100 gram skein. I got 3 skeins of colorway #3734 at Windsor Button. Currently auditioning: #27 from the Handmade Crochet Book
(the same book I used for my potholders). This scarf is the reason I bought the book in the first place – I really loved the scarf Alicia Paulson crocheted.
Yellow: Berroco Weekend, worsted weight acrylic/cotton blend, 205 yards per 100 gram skein. I got 15 skeins of colorway #5921, banana, at WEBS: you can't beat their discount on large purchases ;). Currently auditioning: the Sunny Spread blanket. I'm still searching for just the right crochet hook for this project: I think I need one with a very deep hook, if that makes sense, to securely grab all the plies of this worsted weight yarn!
What are you working on this weekend?
0
likes