Thank you, everyone, for contributing to my new Frequently Asked Questions list! Exactly as I expected, some questions were asked more frequently than others, and that's how I determined what to answer! The five winners of the knitaversary contest have been chosen and notified, and a little later I'll show you the prize each one selected :).
– – – – – – – – – – – – – – – –
I think on only one previous occasion I had an FO post, and then a follow-up post featuring that same FO, modified: when I finished the Brilliant Retro, scorched zipper and all, and then later replaced the zipper with one that matched better (and wasn't fried!).
Well, here we go again!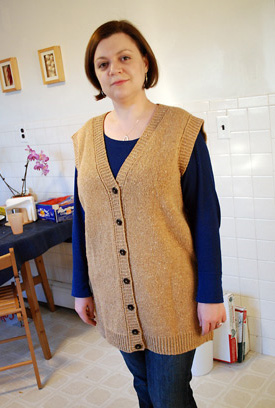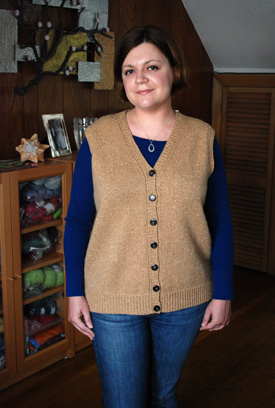 Look, I even wore the same outfit for you guys! And considering it was something like 98 degrees on the day this photo was taken (my shiny face confirms the temperature), I think that alone qualifies me for sainthood :).
To recap, the vest ended up being too long for my mom in its original form, so I made a plan of alterations, dissembled, removed close to 6″ in length without frogging the whole thing, and stitched the vest back together. And here it is!
I also made the armhole bands a little narrower, and added a few decreases so they don't stick out like epaulets :).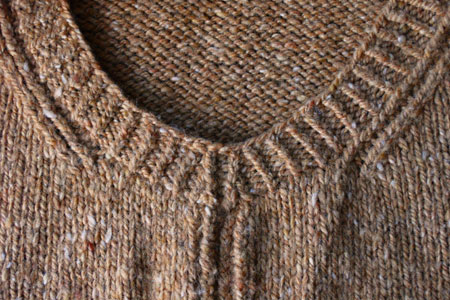 Compared to the dimensions I measured immediately after finishing, I can see that the vest grew in length (and shrunk in width) during the few months that my mom had it. No wonder it became just too long for her to wear comfortably! Here are the new measurements:
Widths: about 47″ across the bust, 45″ at the waist, 46″ at the hips. Remember, I didn't alter the width at all! But all those numbers are 2-4″ smaller than the freshly-finished version! Length: 15.5″ from armpit to hem, and another 8.5″ armpit to shoulder (25.75″ total, a reduction of 5.25″ off the original finished length).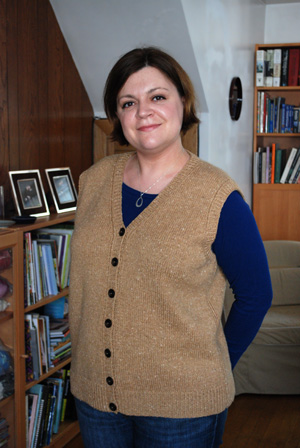 The vest sits much better on me than the original version, and I hope that's the case for my mom, too (she and I are about the same height).
0
likes