Ha! Yes, I'm having a bit of craft ADD lately: first there was quilting, and now there's spinning. Honestly, it's just my way of dealing with this hot and humid weather – sewing on cooler nights, knitting when I'm able to find relief in air-conditioning, spinning when everything else seems to be making me too hot! Also, I'm finally feeling the freedom of being done with all my baby knits! Hooray! As a result I'm terribly scattered, but eh, whatchagonnado?
So, guess what?!? I made yarn!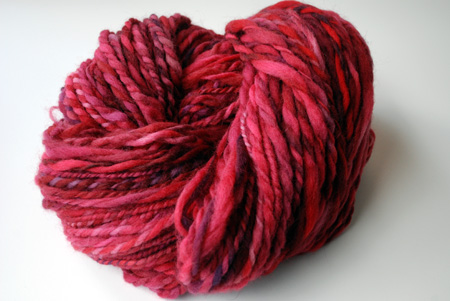 Stacie showed me the ropes, with some helpful guidance from Maryse, too! Two lessons later, I think I'm finally getting the gist of it – what goes where, how to make yarn thicker or thinner, tighter spun or looser, etc.
But I have to say, spinning… good spinning… is an art, and I have no misconceptions about that. It will take a lot of practice and a lot of duds to make yarn as pretty as what I currently have in the stash, or as pretty as anything Stacie cranks out. Every time I see one of those beauties, I wonder, "Why spin when I can buy it all spun up and gorgeous already?" I've been using that as an excuse to avoid spinning for 6 years now ;). The issue, and I'm sure you've all seen me battle with this time and time again, is that the common put-up of a handspun skein of yarn is approximately 100 grams, which is not enough for much.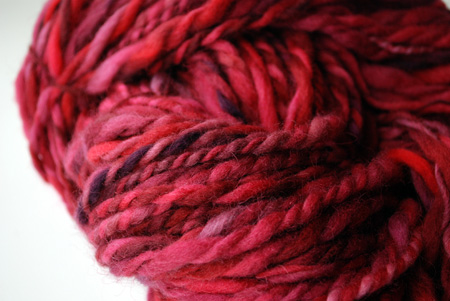 Anyway, for my first "skein," and I use that term loosely, I used Corriedale pencil roving from Crown Mountain Farms. This was great to use for a beginner like myself because there was minimal fiber prep. I used Stacie's Majacraft Rose and made 2-ply yarn! It's bulky-ish, largely under-spun and under-plied (shocking, I know!), but with promising bits throughout.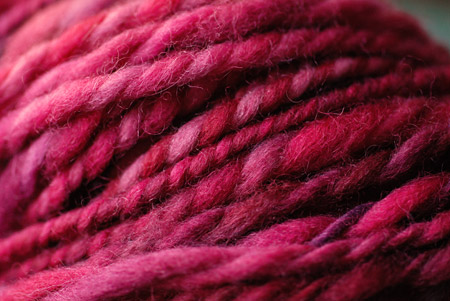 Before cranking out that skein on the Rose, I tried spinning on the Ashford Traditional wheel (I think the double drive version), and the Louet S10 DT. The Louet was excellent, the Ashford… less so. I guess there's a reason we are advised to try out a wheel before buying – each one is different! I'm nowhere near ready to buy a wheel, but I will be taking that advice seriously if and when I am.
Lastly, in the spirit of spinning, I wanted to mention the 4! Ounce! Challenge! that Stacie is currently hosting. Spin yarn and have the opportunity to win awesome prizes?!? That sounds like a win! Maybe next year I'll have my own wheel and be good enough to participate!
0
likes