We doin' big quiltin', we spendin' cheese
Check 'em out now
Big quiltin'
Without an A/C…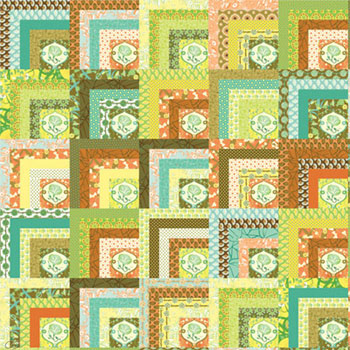 I recently picked up the Botany Quilt Kit by Lauren & Jessi Jung for Moda Fabrics from Hancock's of Paducah, and I'm so excited about it! This is a very special purchase for me, a point of starting over, and the (entire, wordy) background story is in the extended entry. But up here, just the pretty pictures and the squeeee!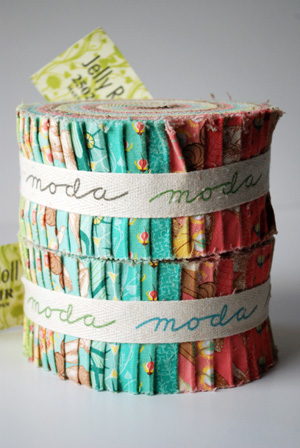 The kit comes with 2 jelly rolls. This is new to me since I've never purchased jelly rolls, layer cakes, charm packs, or any other pre-cut fabric packs before.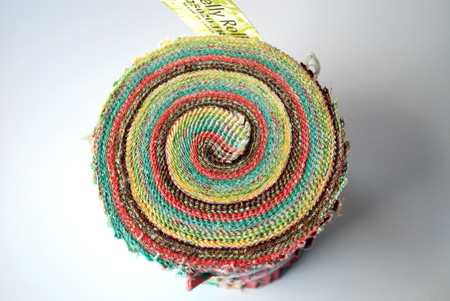 They are so cute! I bet I won't feel that way once I unwrap the roll and have a gazillion strips of fabric all over everything.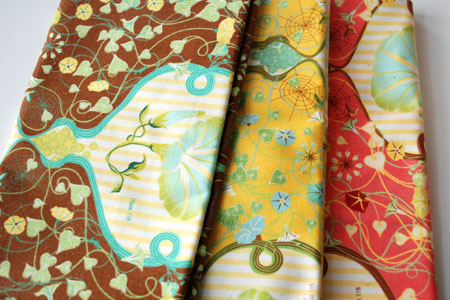 There are also some bigger pieces of fabric for "fussy cutting" (a technical term) the centers of the blocks. But I don't think I'll use those flowers for the centers of my blocks: I think I'll like the blocks better if the centers are a smaller print. So, I'll fussy cut around the flowers instead!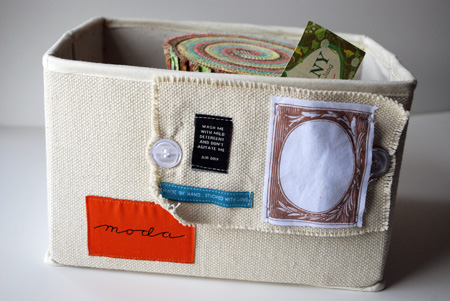 And the whole kit came in this (collapsible!) canvas basket, complete with care labels that you can sew onto the completed quilt.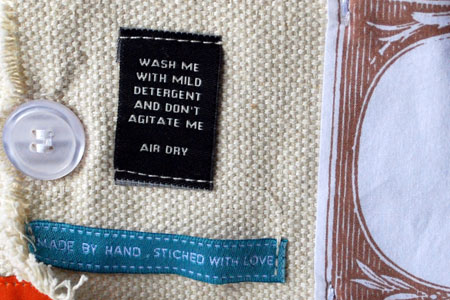 The bottom one says, "Made by hand, stitched with love." The top one says, "Wash me with mild detergent and don't agitate me. Air dry." Hmmm, I'm not sure how I feel about the air dry bit.
The only downer about this kit is that I think I'm going to have to change the assembly from what's given in the pattern. As written, the directions have you piece the outer bits of each square first (with diagonal seams), and then set in the center square. This seems excessive considering you can achieve practically the same look with a basic half a log-cabin square (or whatever it's called). Right?!? I'm a little bummed about that considering I was specifically looking for a quilt kit with precise instructions to follow (more about that in the extended entry), but I hope I can manage on my own ;).
Well, there's one other thing that's making me supremely upset: although I got this kit several weeks ago, and have been feeling very enthusiastic about giving it a try, the weather has not been on my side. My sewing machine is in an area of the apartment that's not air-conditioned, and we have had unbearable heat for weeks now. Just the thought of using a hot iron to press all those seams makes me cringe! Yuck! I'm hoping the heat subsides some time soon, so I can get moving on this quilt!

Although I'm generally a friend of the sewing machine (a world which caters to much taller women than I will do that), and have even finished fairly complicated garments in the past, quilting has so far eluded me. I made some basic coasters once, and then tried to piece together a quilt top on another occasion… "tried" being the operative word.
In retrospect, I think my "issue" with not finishing the quilt top was two-fold. First, I don't think I'm a "seat of the pants" kind of quilter. This should come as no surprise to anyone who knows me or reads this blog. But I was simply confused, I think, because scrappy quilts can be so gorgeous and string quilts seem so easy to make! Perhaps that's true for others, but it ends up that I need something different. I think in order for me to be a successful quilter, I need to select those quilts which have a pattern to follow, with steps, instructions, dimensions, etc. Less improvisation, more rules.
Second, I was using less-than-high-quality fabrics. I've been reading Oh, Fransson! lately, and she makes many compelling arguments for using good materials to achieve the best result. This of course makes perfect sense, and we all know this to be true for knitting as well as sewing.
If I may take a second here and make a detour down memory lane: when I just learned to knit, I cannot tell you the amount of money I spent buying who-knows-what-brand crappy-ass yarn off of eBay. It never looked quite right when it arrived, the texture was always a surprise (since I couldn't touch it prior to buying), and it never knit up exactly as I imagined. All of it ultimately got tossed, if I'm being totally honest. I eventually learned that bargains are great, but no matter how cheap, bad yarn is bad yarn.
I guess I had to make the same mistake with fabrics, too. The ones I was using for the String Quilt Set on Point were variously acquired, but none from a reputable source. Some were from a discount fabric store, others were a freebie with something I bought on eBay, many were leftovers from previous sewing adventures.
They were all slightly different weights, but I think what really killed the possibility of this quilt top ever being finished was that this one fabric, my favorite of the bunch, this dark navy with white hatch marks that I felt was holding the whole thing together, which I was going to use for sashing and backing, this fabric really sucked the most. It was stiff and felt slippery to the touch, and even though I pre-washed it, the blue ink rubbed off on my hands, my iron, and my ironing board during the whole time I was using it. And who would want to work with that?
Anyway… this brings us to today. I've been feeling the quilty love lately, mainly because of my peeps over at Flickr who play along in quilting bees and block challenges, and whip up some absolutely stunning masterpieces in the process. Their genius combined with some amazing quilting blogs (many of which share tips, resources, and tutorials) finally pushed me over the edge.
I decided that my best bet would be to find a quilting "kit" (if such a thing existed), which would provide me with instructions for completing a quilt top together with the necessary materials. Mrs. Vesper pointed me in the direction of Hancock's of Paducah, where I found out that this kind of thing definitely exists. Considering my recently-acquired respect for high quality fabrics, I compiled a short list of manufacturers whose fabrics I've seen praised by my quilting friends. Quilt kit + good brand from my list + not too expensive + not too complicated = Botany Quilt Kit by Lauren & Jessi Jung for Moda Fabrics, which is described in all its glorious detail in the main entry ;).
0
likes