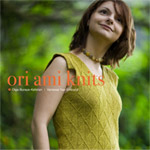 Olga Buraya-Kefelian (forever in my mind as Olga Jazzy) and Vanessa Yap-Einbund (forever in my mind as Coloursknits) accomplished something truly remarkable in publishing their first book, Ori Ami Knits: it is from A to Z theirs.

It's self-published, for starters, but I think their personal stamp runs even deeper:
The collection is knit entirely using Habu Textiles yarns. I don't know about you, but I've always had a hard time visualizing how one would use a "yarn" made out of paper, or stainless steel. And it was on Olga's and Vanessa's blogs that I first saw actual Habu Textiles projects, long before the book was conceptualized. So I've always thought of Habu as the authors' signature yarn brand.
The garments and accessories themselves are cleverly constructed, and very structural in nature: exactly the type of interesting fabric architecture that Olga has been delivering over the years. This, of course, is right up my alley – I love unique construction!
True to their forward-thinking tone, Olga and Vanessa established a comprehensive web presence for their project. There's a website for the book, a page on Ravelry, and various other groups to encourage user participation and feedback. The book is even available in digital format!
Last, but not least, Vanessa herself photographed all the projects in the book, and for most of them Olga is the model – you can't get more personal than that!
It's clear that Ori Ami Knits is the brain child of these two talented ladies, but does it offer something for the rest of us? Yes, I think so! The garments are both interesting and wearable, which I think is the best possible combination. They are all perfectly balanced: modern, clean lines with some unique touches that can be seen and admired without shouting, if you know what I mean. From a technical standpoint, the book features an excellent range of sizes, clear charts and size schematics, and flattering silhouettes (though for my figure I know I'd be incorporating waist shaping into many of the tops).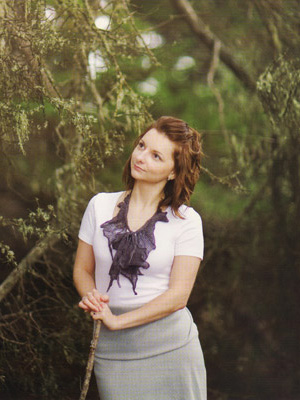 The accessories featured in the book might be my favorite of all, especially the Japonica Cravat. I love that it's somewhere between a necklace and a scarf, that it would be pretty quick to knit up, and that the yarn is available and not terribly expensive. Ideas, ideas…
0
likes