Completing steps 1 and 2 of the Great Vest Alteration was easy, quick, and relatively painless. In contrast, the inevitability of the next steps was simply daunting. The perfectly functional (albeit ill-fitting) vest was now in three pieces and the only way to correct this… shall we say, "small obstacle on the road to actual wearability," was to proceed to steps 3 and 4: shortening the armholes (from the top: easy) and body of the vest (à la Operation Orange Overload: not easy).
First, there was a lot of avoidance. Of course! I'm not generally a procrastinator, but steps 3 and 4 are exactly the sort of thing you can't do after a long day at work, or while watching TV, so they had to wait for the "right moment." Aaand they waited a baby vest and a baby sweater's worth of time :). Then this weekend I felt a pang of motivation, and followed it through.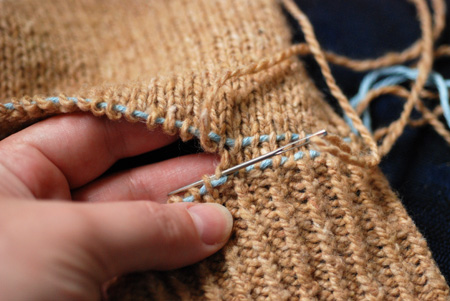 The end result: it's done. The three vest pieces are now each 5.75″ shorter, hem to shoulder, and you can't tell that anything happened. Whoa.
Some progress pics and descriptions in the extended entry. It was not easy, but it was easier than either re-knitting the whole thing from scratch, or frogging past the armholes and re-knitting from there. Trust me when I say this: cutting a piece of fabric to either shorten or extend is a totally workable solution. Do not discount it. It's not easy, but it's easier and faster than the alternatives. I promise. I'm not magic (only persistent and careful), and if I can do it, so can you!

I didn't document step 3: shortening the armholes. When I took the vest back from my mom, I pinned the shoulders to mark how much I needed to take in; it was about 2″. I then frogged that length, and re-knit the shoulder shaping: just a few row over a very small number of stitches. It was as simple as it sounds.
Shortening the body of the vest was very similar to the way I swapped in a different hem on my Filati tunic sweater, aka Operation Orange Overload.
First, I determined the length of fabric that needed to be removed. Again, this was done while I had my mom actually there, with the vest on: 3.75″ had to go. Second, I decided that the grafting line would be immediately above the ribbing. Definitely a deliberate decision: if my grafting was in any way wonky, either in tension or slant of stitches or what have you, it would be infinitely less obvious at the point where ribbing became stockinette than smack-dab in the middle of a field of perfect stockinette.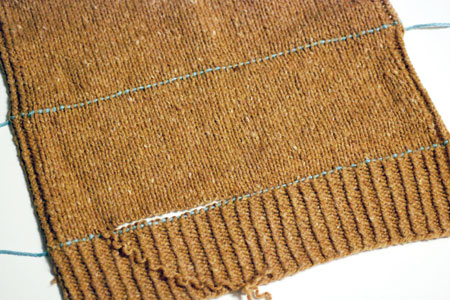 Third, I threaded a length of smooth yarn through every stitch of the first row above the ribbing. Then another length of yarn 3.75″ higher. Snip and unravel.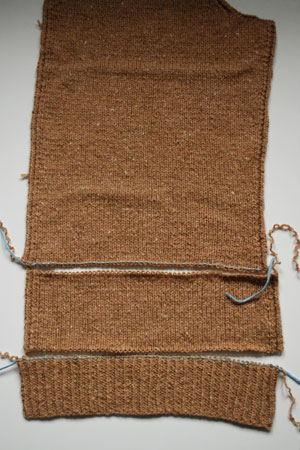 Graft live stitches. Unlike my grafting on the Filati Tunic, I tried to get the correct stitch tension right from the beginning: this Jo Sharp Silkroad Tweed DK does not tolerate too much nudging and pushing and pulling before fraying and becoming unmanageable.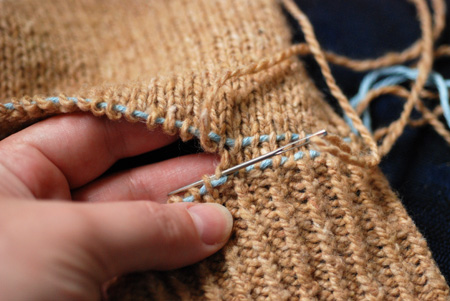 Grafting at the edges was a little bit tricky, for two reasons. First, the portion of stockinette that was removed contained a waist decrease, so I had to add in some decreases during the grafting. Second, there are a few stitches of twisted ribbing along the edges of the vest pieces (purely decorative), and that's not as straightforward to graft as stockinette. But no worries, it's not impossible! Just requires a little trial and error to loop the yarns just so.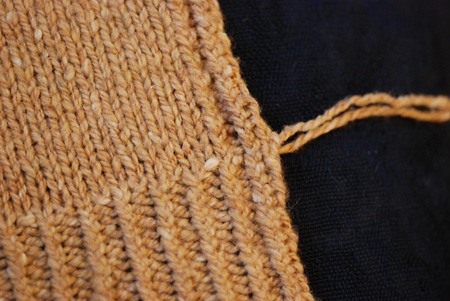 One way to make this easier is to line up the stitches, and start grafting about 1″ away from the edge, first working in one direction, then in the other. Starting at the very edge of knitting is tricky because it's hard to see which loops need to be connected first.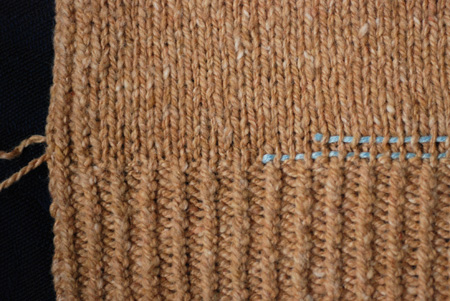 Last, yank out the two lengths of yarn, and admire! See these two blue strands of yarn, maybe an eighth of an inch apart? They were precisely 3.75″ inches apart prior to the fix! Not too shabby! I think it will be virtually unnoticeable once it's blocked.
And now that I'm feeling completely satisfied with myself for accomplishing this in such short order and with minimal cursing, where can I find the motivation for completing steps 5 and 6, reassembling the vest, and re-knitting the button band and armhole bands?
0
likes