Guess what came back to live with me?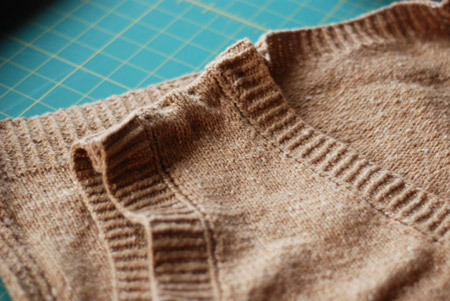 After hemming and hawing for 4 months, my mom finally relinquished this stockinette labor of love so I can alter it. It was clear from the beginning that it came out longer than it needed to be, but not wanting to trouble me, she kept trying to make it work. Finally, when I was visiting this weekend, she allowed me take it back.
The alterations will not be trivial, but they will make this vest wearable, and they will be less work than knitting an entire new vest (which is also in the works, though progressing very slowly). The whole thing will go something like this:
Remove buttons, rip out button band and armhole bands.
Take apart side and shoulder seams, so the vest is in 3 pieces again.
Shorten armholes by about 1″ (from the top).
Shorten the vest body by a good 3″ by performing something similar to Operation Orange Overload.
Reassemble vest.
Re-knit the button band and armhole bands. Work a few decreases in the armhole bands so they don't bunch in the armpit.
I hope it will be a very straightforward fix, but I'll let you know if it turns disastrous ;).
0
likes