There are many babies slated to arrive during June and July, and the tight deadline has obliterated my entire sense of creativity.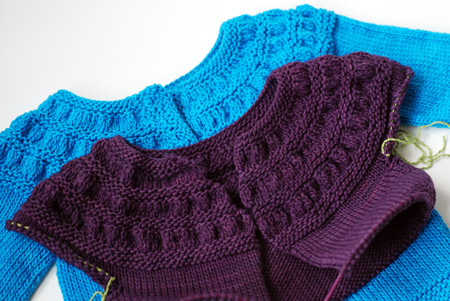 Here we have the über-adorable Tiny Tea Leaves Cardi, and another one in progress. At least I'm making them two different colors!
Even the yarn, Araucania Ulmo, was a completely uncreative choice – I saw Kelly using it, liked it, and bought a few skeins without a second thought. There is still plenty remaining at WEBS at nicely-discounted price, but before you get it, let me share the following with you: first, I find it incredibly splitty. I can't say it really snags, but the plies separate quite easily when I'm not paying attention. Second, the Bright Turquoise (but not the Medium Purple) rubbed off on my hands as I was working with it.
That being said, the colors are amazing, the hand-dyed variegation is beautiful, and the knitted fabric is really lovely. Each of those little sweaters is using up less than 2 skeins, but I'll share all those details with you when I blog about the FOs.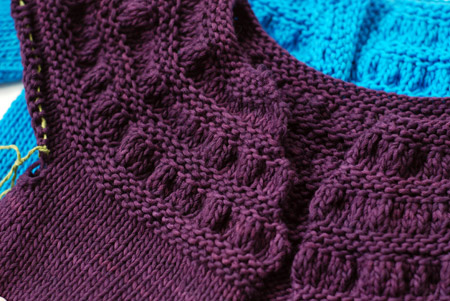 Choosing these two colors in particular "tickles my fancy" in some odd way. I think that's because they are really contrary to the typical baby girl colors – one would be more commonly used for a baby boy, and the other, for a grown-up. No matter! I like 'em :). If I'm going about the task of outfitting an army of babies, I might as well find little nuggets of enjoyment in the process. Besides, the sweet gathers are just the right delicate touch, don't you think?
0
likes