Thank you, guys, for the Budgie love :). I really love this little sweater, and feel it was totally worthwhile to write up the pattern for everyone to enjoy.
But now, onward! I feel like I have a huge backlog of finished projects to share with you! I'll try to go through them in somewhat quick succession because the details will get very dark and murky if I wait too long :).
Let me start by showing you the absolutely phenomenal potholders I received in the 2010 Potholder Swap (on Ravelry, on Flickr):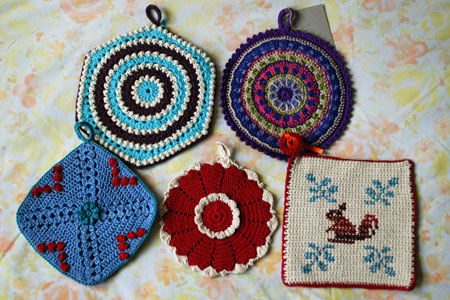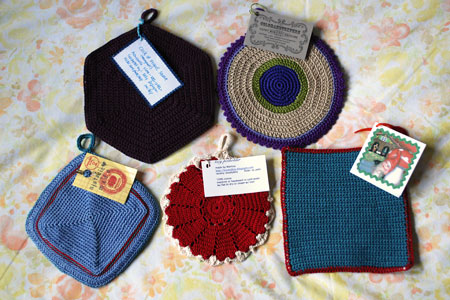 You know, people are so talented. Each one of these is a little work of art, and I love love love them!
Top row: Circle of Friends Square potholder by kelp!, and Snail Shell potholder by Color & Texture.
Bottom row: pane from a vintage bedspread by NJStacie, Lacy Potholder from a Japanese book by Maritza, and roqua squirrel by Maryse.
Huge thanks to the organizers, and to the talented ladies who crocheted my potholders!
Of course I wondered where the five colorful nuggets of goodness that I crocheted ended up, and I was able to track all of them down! Acid green and bright blue went to Maryse, the orange and dark blue one went to Bertha, the red and light green one went to Stacie, the magenta and cloud gray one went to Jenn, and the dark purple and coral one went to mamajanagreen. I hope you enjoy them!
I now have ten potholders total – five from this year, and five from last year – and I think that's enough to start a little display in the kitchen!
0
likes