I spent the last few weeks dealing with some major technological upgrades around here – I got a new computer (with a new-to-me OS) and a new smartphone, at basically the same time. This pretty much guaranteed that my butt was glued to my desk chair every night, for hours at a time. I both love and hate this process: one the one hand, it will speed up blogging (and everything it entails, including photo-processing) in the future. On the other hand, I feel like I've lost 2 weeks of knitting, and there will be a number of gift-less June babies if I don't step away from the computer. Like right now :).
Soon I will have some nifty FOs to share with you, but for the time being, let's admire this gorgeous yarn: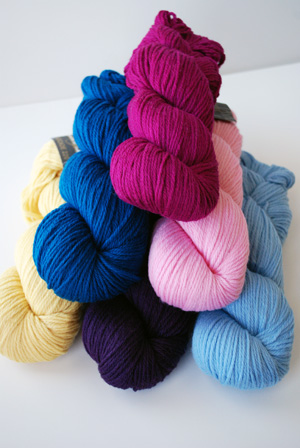 The trusted, ubiquitous, economical, delightful Cascade 220. Top row: magenta (7803); middle row: dark teal (8892) and tutu (9477); bottom row: lemon yellow (4147), regal (7807), and summer sky (7815).
I found 60 Quick Knits: 20 Hats*20 Scarves*20 Mittens in Cascade 220
to be really inspirational and exciting (read my review here), and couldn't wait to start a project from the book. But first I needed to get some Cascade 220. Conveniently, WEBS was (and still is) having an awesome sale on a ton of different colors! I have no idea how I narrowed down the selection to only 6; it was a challenge. Also, I'm pleasantly surprised that the colors are exactly as I imagined! Choosing colors online can be tricky, but the outcome was great this time!
(click for bigger)
For the project, I'm thinking the Octopus Mittens, of course. That's what attracted me to the book in the first place! So, what do you think for color combinations? I'm thinking of these for a 2-year old girl, and my personal preference is to put the darker color on the palms, which tend to get dirty very quickly.
0
likes