I wanted to quickly share with you the first (and so far only) potholder I finished: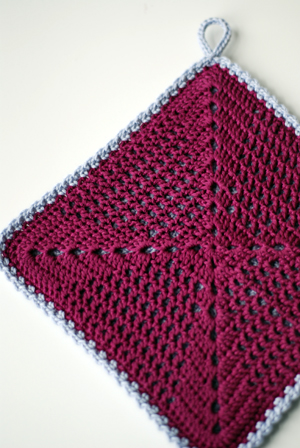 The pattern details are here.
I love it! It took a lot of blocking (hot steam from the iron) to get the front to straighten out and become a perfect square. I hope it stays that way with use!
I've run into one issue while crocheting this pattern: because the front and back are both solidly-colored, it's not possible to use yarn scraps of various colors. Even partial skeins have to be quite substantial to last all the way – about 30 grams of each color. I'm trying to limit myself to my stash of Tahki Cotton Classic as much as I can, and I've arranged a few trades on Ravelry to supplement what I have in matching dye lots. But I will need to buy a few new skeins as well. Not necessarily a bad thing :).
0
likes