I was very impatient while auditioning patterns for this year's crocheted potholders swap (on Ravelry, on Flickr). I just wanted to pick something and get moving! The deadline is March 27th!!! (Oh my God, I thought it was March 31st until just now when I went to double-check. It's even sooner than I thought! Eeeeeek!)
Five potholders, front and back (plus last-minute runs to the yarn shop, plus blocking, plus tags, plus photos…) is not something I can whip up in a weekend, unfortunately. I only wish I was that fast with a crochet hook. I felt a ping of pain for every pattern I tested which ended up on the chopping block. Tick-tock-tick-tock, every second is precious.
But despite this, I couldn't bring myself to settle on something "meh," nor did I consider dropping out. Any time I think, "Maybe I can't do it this year," I just look at the potholders I got in the swap the last time around. Hello. I still love you.
With that in mind, I lined up some excellent potential patterns, which I listed in my last post. What made them excellent, in my mind, is a combination of prettiness and a near guarantee that they would work in my hands (no time to waste, see above). And while I gave many of them a go, at the end I settled on something completely unexpected.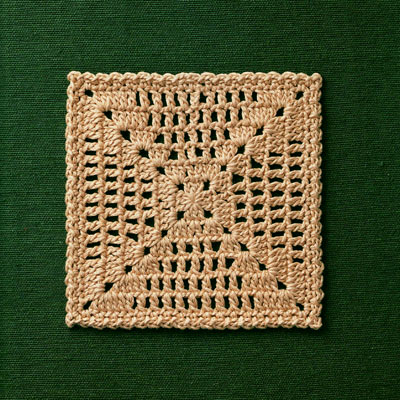 Meet motif #6 from a Japanese book called "Handmade Crochet Book." I purchased my copy here
on eBay. The store, Pomadour's Craft Café, has an amazing selection
of Japanese crafting books and supplies. I've always been very pleased with the customer service, too.
My choice of a potholder pattern from this book was completely unexpected because the book was originally purchased for the purpose of crocheting this beautiful scarf I saw on Posie Gets Cozy. But after trying a number of potholder patterns without an "a-ha!" moment, I suddenly remembered, "Hey, didn't that scarf book have some interesting potholders?" Ta-da!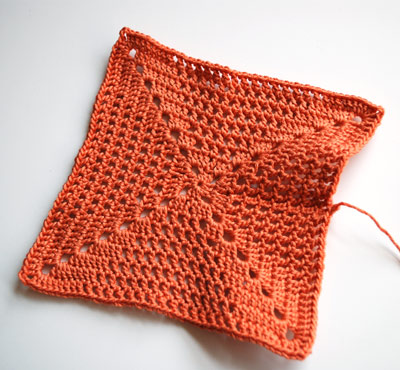 Please pardon our wrinkles; we aren't yet blocked.
The pattern is lovely, delicate, and simple. I only need a chart for the first few rounds. After that, the rounds build upon one another in a very logical way. This is especially helpful because I've had to add 3 additional rounds to meet the minimum swap size requirement (6″) – piece of cake.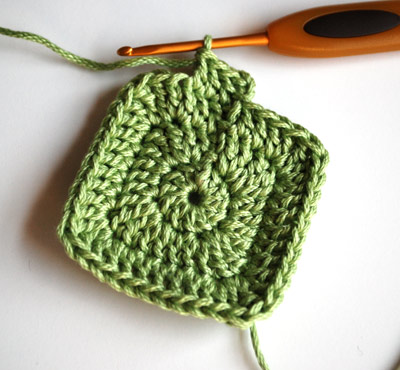 For the back I'm using an old standby from the 2009 swap: Solid Square (#149) from 200 Crochet Blocks
. I'm making it all one color, though. I haven't yet decided about the frilly edging, whether I'll make it the same color as the potholder back, or a third color all together.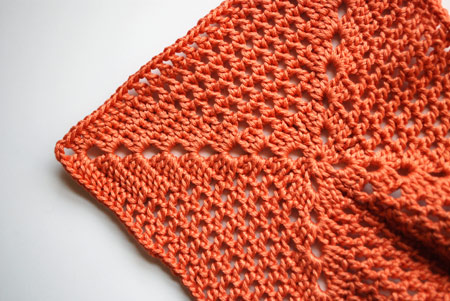 And now that I've settled on a pattern, I will crochet like a maniac! The deadline awaits! Onward!
0
likes