Participating in a blog book tour for Chrissy Gardiner's newest book, Toe-Up!
, was an easy decision. I highly respect Chrissy's designs, and have had incredible success knitting so many of them! In addition, I received a preview copy of this book back in August, and have leafed through it many times since then. I feel that I can contribute some helpful comments by now ;).

Continue to the extended entry for my review of Toe-Up! If you're so inclined, you can visit the official website of the book to see the complete blog tour schedule, and read other blog tour reviews! The website also contains pictures of the patterns: those published in the book, as well as extra ones.
And if you still want more, I have two copies of this book to give away!
To enter, simply leave a comment on this post!
Please use a working e-mail address. If I can't get in touch with you, you can't win!
One entry per person.
Comments will be closed Sunday (February 7th) evening.
Winners will be chosen randomly and notified via e-mail.
Good luck, and I hope you enjoy my review of this book!
Comments have now been closed, and the two winners will be notified shortly. Thank you for participating!

As the name implies, Toe-Up!
is dedicated to knitting socks, from the toe up!
The first part of the book is dedicated to essential toe-up techniques. To start, there's the always-heated dpns vs. two-circ vs. magic loop discussion (it's good to get that out of the way). While each knitter has a favorite method, Chrissy pleases everyone by treating our choices with ease and comfort, and without fuss. The truth is that it's not a big deal. I personally never appreciate books specifically written for 2 circs, for instance. Chrissy handles this aspect well in writing the patterns, too, by not numbering the needles and just designating instep and heel stitches, the end.
Needle choice is followed by sections on sock fit, knitting gauge, and choice of yarn fiber and color. Then come instructions for all the different cast-ons, toes, heels, and bind-offs that are essential for knitting a sock from the toe up. I thought the writing in this part of the book was crystal clear, the pictures were demonstrative, and the number of showcased techniques was perfect for the scope of this book – not too many, not too few. I also enjoyed the suggestions about fit relative to foot anatomy (for narrow heels, do such and such, etc.).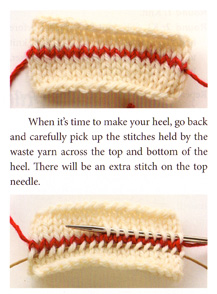 The next section of the book contains the actual patterns, which represent a nice range: simple and complicated, for feet big and small, men and women and children. They use a variety of heels and toes from the first part of the book. Of course the option to mix-and-match is always there. I especially love the pattern/technique grid on page 58, which summarizes all the different elements of the designs.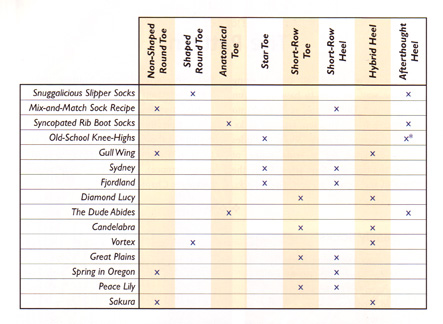 For the patterns, I felt that Chrissy struck the perfect balance between spelling out instructions exactly (large and clear charts are provided) and leaving the knitter totally on his or her own (the phrase, "use your favorite bind-off" is standard). The only negative, which I must mention in this here honest review, is that while the book had wonderful, artistic photos, I felt it lacked clear "full shot" photographs: sock toe together with sock foot, together with sock heel, together with sock leg, together with the cuff. Fortunately, there's a virtual fashion show on the Toe-Up! website which complements the book's photographs nicely.
(click on any picture to view bigger)
The last section of the book contains blank worksheets for calculating heels and toes, enabling any knitter to use his or her creativity and imagination! All the worksheets have a "Check That" section to make sure the numbers were crunched correctly before any knitting takes place. Need an example? No problem! Sample worksheets appear all throughout the first section of the book!
Overall, this is an excellent resource for any sock knitter. It would be perfect for someone who's never knit toe-up socks before, while a seasoned pro could pick up new tips and tricks, as well as discover beautiful new patterns The best aspect of the book, in my opinion, is the perfect balance between instructional information, patterns, and worksheets – each one receives just the right amount of attention.