Thank you, everyone, for your enthusiasm about Chrissy Gardiner's new book, Toe-Up!
I agree with you: there are so many things to love about knitting toe-up socks, and this book is an excellent guide and companion.
I know you are anxious to find out the two winners of the book copies! They are Heather from Ontario, Canada, and Rebecca from Andover, Massachusetts! Congratulations, ladies! Please enjoy!
I will leave you with a picture of beautiful, drool-worthy handspun: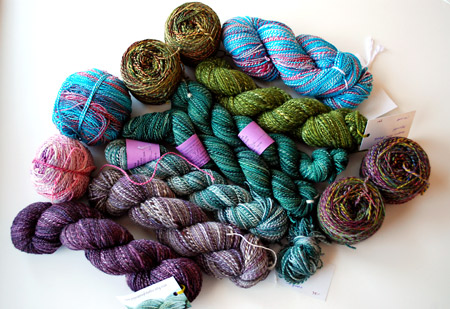 None of it spun by me, but the talented artists at Crown Mountain Farms, Pigeonroof Studios, and A Tree Hugger's Wife enable my handspun obsession just fine ;). I'm amassed quite the collection, right?!?
0
likes