For me, baby knits do not come easy. Literally, for every sweater or blanket I show here as a proud finished object, I've knit the equivalent of one other that had to be frogged. I think there are two reasons for this: first, I'm completely clueless about baby and baby-garment sizing. It's kind of become a joke in our household: I cast on for the next baby sweater or hat, and after a day or two of aggressive knitting Walter points out that it would, in fact, fit my 8-year old cousin. Rip, size down, and repeat.
The second reason is my stubborn insistence that I will have enough yarn, regardless of how much (or little) yarn I actually have, and how wrong I am about the sizing (see above). Baby knits are supposed to be stash-busters, right? So… if I have one ball, even if it's only 87 yards of worsted weight yarn, it will be enough for a 2-year old size!?! Even if I'm not stash-busting, I will buy only one or two skeins of yarn, thinking it should be enough. I can be such an idiot sometimes.
My latest habit is to acquire precious skeins of handspun (which are typically available only one skein at a time anyway), and try to morph them into winter sweaters for all those friends who are expecting in May and June. So, sized somewhere in the 12-months range. This is a FAIL every time. One skein of handspun, typically created from 4 ounces of fiber, will NOT be enough for a 12-months-sized baby sweater! (But newborn sized? Definitely!)
And yet, I persist.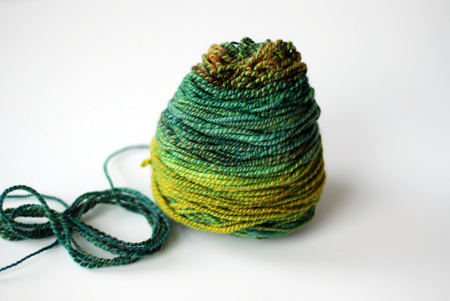 It's exactly what I first tried to do with this gorgeous handspun Polwarth yarn (approximately 220 yards, 5 stitches per inch on US 6 needles). The fiber was dyed by David at Southern Cross Fibre, and spun by my talented friend Stacie (see more handspun goodies in her Etsy shop). The colorway is called "Budgie."
The yarn is incredible. It's my first time using Polwarth (check-mark in the using something other than merino box), and it feels like cotton balls – fluffy and squishy, while at the same time having a nice density, too. Stacie spun it brilliantly, with slow transitions from one color to the next. If you read Stacie's blog you'll see that she puts a lot of thought into the way she spins her yarns, envisioning specific variegations and transitions before she even starts.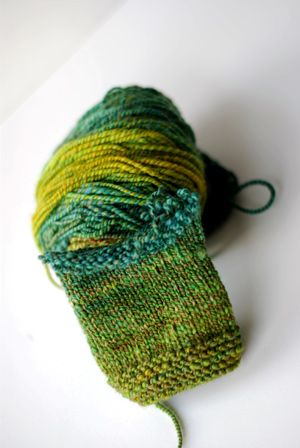 It was easy to become mesmerized and hypnotized while knitting this yarn. Honestly, I wouldn't take back the four or five hours I worked with it for anything – they were a pure joy. But soon enough I realized that I wouldn't have enough to finish the baby cardigan I had started. Close, but not quite.
My typical solution would have been to rip and knit a smaller size. But I have a specific recipient in mind, and her baby boy is due in May – a newborn-sized cardi won't do her any good during the sweltering New England summer. I hemmed and hawed and decided to stripe the Polwarth with another yarn: Classic Elite Princess in Ladylike Leaf (3497). I've had this yarn in the stash for what seems like forever.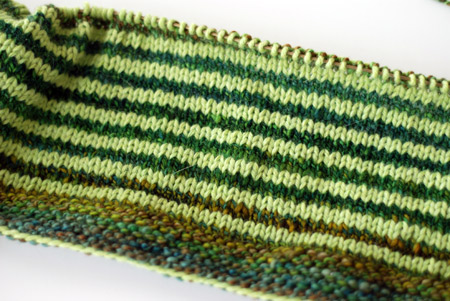 The 2-row narrow stripes were inspired by a stripey baby cardigan that Elinor recently finished. I was also encouraged by Brooklyntweed's Alberta vest, in which he combined solid and handspun yarns with beautiful results. Honestly, if I had the option, I would have preferred to knit the whole sweater from handspun. I was (and still am) worried that the solid, bright lime green detracts from the more subdued and sophisticated Budgie, that the intervening lime stripes hide the gentle color transitions of the handspun yarn.
At the very least, there's no chance I will run out of yarn ;). And I'm happy with that option, this time around.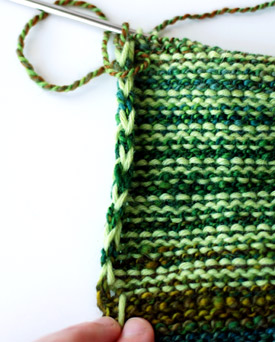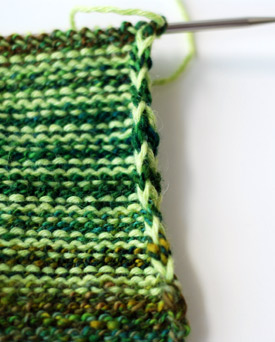 I wanted to share with you the way in which I work 2-row stripes when knitting flat (back and forth). This is a technique I picked up from Vivian Hoxbro's Shadow Knitting
, eons ago. It results in a very neat chain stitch edge along both sides of the work, even the one where the color changes take place. The edges can be left as is, seamed easily, or finished with a button band, etc. The rules are as follows:
Do not cut the working yarn after every stripe; instead, it will be carried up the side of the work. This goes without saying, but sometimes it must be said :).
On every single row (right- and wrong-side) slip the first stitch knit-wise, and purl the last stitch. One exception: work the first row after cast-on without special treatment (knit all or purl all stitches).
Make you color changes on right-side rows. To do so, pick up the new color from beneath the old. I think of this as bringing in the new color from the right relative to the old. (If this is not clear, knit a swatch: you'll be able to tell right away if you're doing this right.)
At the beginning of your right-side rows (where the color changes take place), keep the stitches artificially loose. They edge will get quite tight if you don't.
Take the slipped stitches into account when you plan your pattern: you will be losing 2 stitches in width if you slip the edge stitches.
1
like