As predicted, it took me far too long to sew the finished Sashiko sampler into a simple pillow case. Sewing has that annoying rule – cut once, and you're done – and it can be paralyzing at times. Fortunately, one fine weekend I got over it.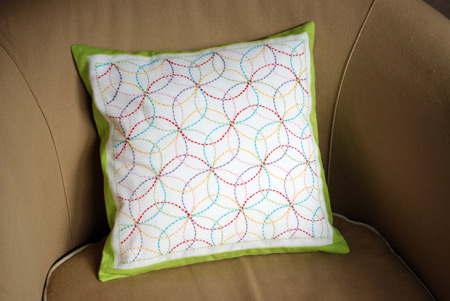 Pattern: Rickie's Sashiko Pillow from the Purl Bee, using the white Hana-Zashi No. 12 sampler.
Your comments exactly mimicked my own feelings about this sampler. Josiane wrote, "I really like how the pattern reads in so many different ways: flowers, circles, flowing rivers," and Punkin commented, "When I look at your embroidery I see circles but when I follow the colors I realize they are in waves. Fascinating." Yup. That's pretty much how this whole thing started: I kept looking at the Purl Bee photo and each second my eyes were seeing something different. And I definitely saw circles at first. It was so interesting; I had to make it!
Threads, etc.: as I mentioned, I just bought everything the Purl Bee told me to buy :). No creativity whatsoever. The one thing I did alter was to use a simple overlap closure for the pillowcase instead of a zippered one. Laziness was one reason, but mainly I don't like hardware (zippers, buttons) on my pillowcases.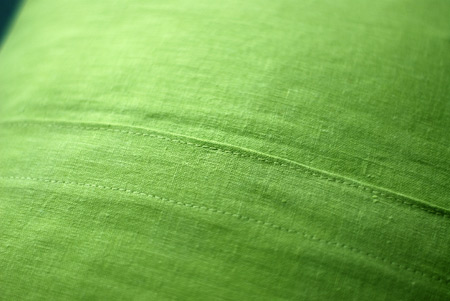 The Robert Kaufman tencel linen I used for this project was amazing. Crisp and textured, yet soft and drapey. It pressed exceptionally well, and stood up to a seam ripper like a champ. I won't even mention the beautiful color! It was also my first time sewing with 100% cotton thread. Such tight, crisp stitches, and no complaints from my sewing machine!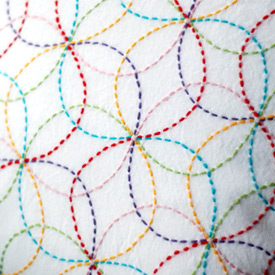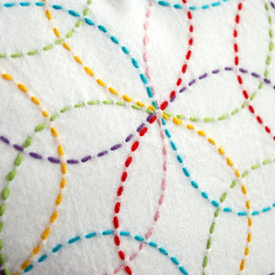 To those of you considering Sashiko, I say, just give it a try! Buy a sampler
and some threads
, and you'll find that it's remarkably simple. The little plump stitches will win you over in a heartbeat ;).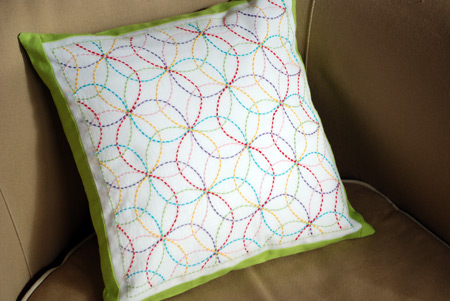 0
likes