Do you know how sometimes you see a project, or a color combination, and instantly fall in love? It doesn't happen all the time: we're quite good at noting things (big and small) that we'd like to tweak – using a different color palette, or making the item a few inches longer, or a little more floppy… whatever. But once in a while, it's perfect in our eyes, and it's all we can do to restrain ourselves from matching the dye lot of the project yarn, let alone the brand and color.
Rickie's Sashiko Pillow, from the wonderfully inspiring Purl Bee, was such a project for me. I saw it, and there was nothing I wanted to change. About 3.5 seconds later, all the project ingredients were in my shopping cart, and I was at the front door asking the mailman if he had a package for me.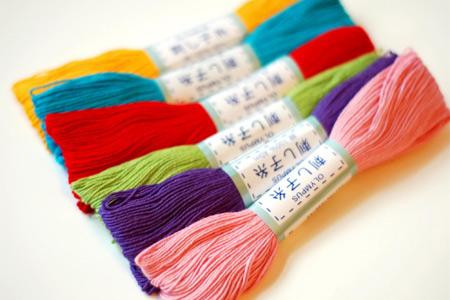 Sashiko embroidery was completely unknown to me until I saw this pillow, but embroidery in general is probably the first needle art I ever learned. Cross-stitch, satin stitch, French knots… I don't know the proper names for all the stitches, but I learned them all in Home Ec. in elementary school. I remember making elaborate samplers, and decorating the edges of handkerchiefs, then being graded on neatness and consistency of stitches.
In that respect, Sashiko and I were always meant to be together. After reading Mari's Sashiko tutorial and learning how to make a quilter's knot (both at the beginning and end of work), I was cruising! In reality, embroidering a Sashiko sampler is as simple as playing connect-the-dots, or creating a paint-by-number picture. So easy, so relaxing! The Purl Bee carries a nice selection of samplers, but you can buy them elsewhere, too, such as on eBay
.
Though other projects intervened, I was done with my sampler pretty quickly!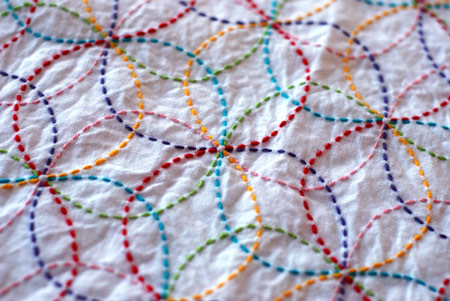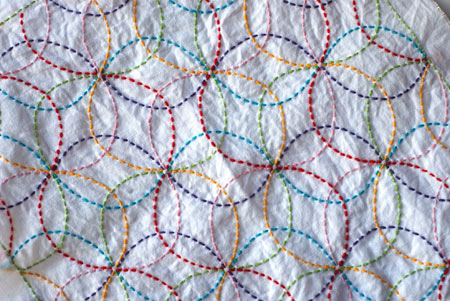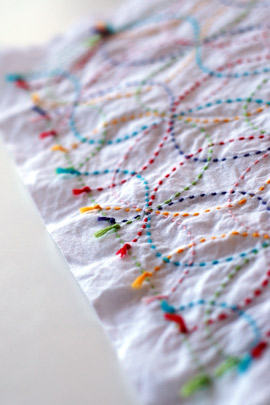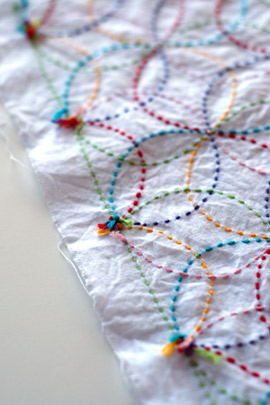 It's very wrinkled because I washed it to get rid of the blue guide marks. Now to press it, and sew it into a little pillow case. I have a feeling this part of the project will take a bit of motivation… groan! 🙂
43
likes