Brioche stitch and I go way back. One of my very first knitting projects was the simplest brioche stitch scarf for my best friend. I again turned to brioche when I designed Roza's Socks.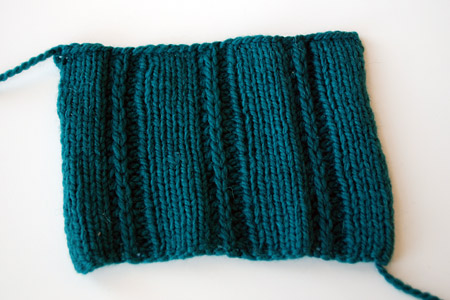 My latest brioche adventure involves a follow-up vest for my mom. She loved the first, and immediately asked if I would knit a second, a little bit shorter. I took a few weeks' break (it was a lot of stockinette), and started scheming. My mom kept repeating that she wanted slimming vertical lines. Knitting a large vest in tight ribbing, like 2×2, would land me in a mental hospital. Seriously. Besides, I don't find tight ribbing over a curvy body particularly flattering, vertical-ness aside.
So, I kept thinking of other ways to add a strong vertical dimension to the vest, and ended up mixing wide ribbing with some brioche, which doesn't draw in as much as true ribbing would. I blocked my gauge swatch under tension to reveal all the peaks and valleys of the stitch pattern (just like blocking lace!), and intend to do the same with the actual vest pieces. I drafted the pattern using the post-blocking gauge, of course.
I'm using Cascade Yarns Eco+, in Spruce (8462). The yarn is very soft and fluffy, comes in giant 250 gram skeins, and knits up quickly at 3.5 stitches per inch. No complaints except that I find it very unforgiving to any stitch or tension imperfections: they all show.
My idea to use a variation of brioche stitch for my mom's vest was also influenced by a book I recently purchased: Knitting Brioche
by Nancy Marchant.
I found this book interesting in the same way I found Reversible Knitting
interesting (my review here, the blog tour stop here): it's a complete tome devoted to one particular knitting theme. Both books develop their own language for explaining the techniques, both provide detailed instructions and step-by-step photos for knitting the elements, both contain superb stitch dictionaries, and finally provide some intriguing patterns at the end. What sets Knitting Brioche apart, for me, is the author's integration of brioche-based stitch patterns into the real world: pages upon pages of special cast-ons, bind-offs, selvedges, increases and decreases… everything you'd need to take a stitch pattern, and plug it into your favorite garment or design idea.
This book opened my eyes to the brioche family of stitch patterns. Brioche is not a one-trick pony – there are dozens of variations, sixty documented in this book alone! In addition, Knitting Brioche is a fantastic reference for reversible and multi-color knitting: the stitch patterns are photographed front and back, and, if relevant, in multiple color variations. I'm really impressed, and Knitting Brioche proudly joins the rest of my knitting reference books. In the extended entry I share some tidbits from the book – techniques, stitch patterns, clothing patterns – to give you a sense of what you can expect inside.

The author develops terminology, abbreviations, and chart symbols specific to brioche stitch:

Step-by-step instructions and photos, demonstrating cast-ons, bind-offs, increases and decreases. Special attention is paid to the reversibility of many brioche-based patterns, knitting flat versus knitting in the round, and multi-color knitting: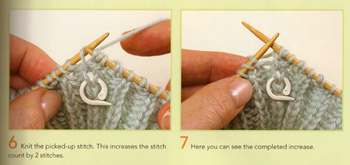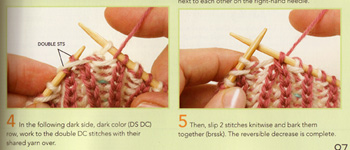 Minnie Stockinette Brioche Stitch illustrated on the right and wrong sides, in one, two, and three color variations: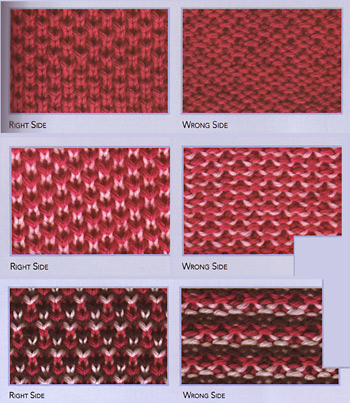 This picture sold the book for me (you mean, I could learn to make all these different decrease patterns?!?):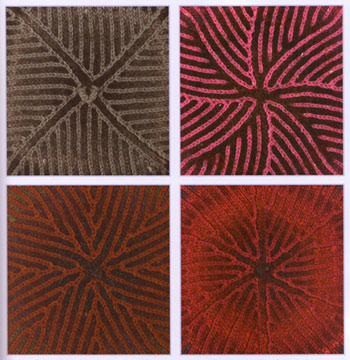 Here are some of the garment patterns:
0
likes