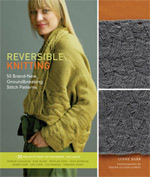 Today I'm absolutely delighted to bring you another glimpse of Lynne Barr's newest book, Reversible Knitting
.
My participation in the blog tour for this incredible book was a given – just check out my review! This book is fantastic, and I wouldn't decline the opportunity to pick the author's brain a little bit, not for anything :). I mean, a person capable of imagining Knitting New Scarves and now Reversible Knitting will unquestionably have something insightful to say.

Before I go any further, please allow me to (1) tell you how you can win your own free copy of the book, and (2) share the entire blog tour schedule with you.
(1) STC Craft | Melanie Falick Books will have a drawing for a copy of the book. Please check here for details.
Plus I have an extra personal copy of Reversible Knitting to give away to one lucky winner!
To enter, simply leave a comment on this post!
Please use a working e-mail address. If I can't get in touch with you, you can't win!
One entry per person.
Comments will be closed Friday (December 11th) evening.
Winner will be chosen randomly and notified via e-mail.
Maybe you want to tell me how reversible knitting inspires you. Maybe not. It's up to you, and the random-number generator won't discriminate between short comments and long ones :).
Good luck!!
Comments have now been closed. Thank you for participating!
(2) If you follow along with Lynne's visits, you'll keep learning more and more about this fabulous book!
In the extended entry you will find some topics that Lynne and I discussed – specific stitch patterns, their uses, modifications, yarns… Lynne even very generously provided shaping instructions for one of the more ornate stitch patterns from the book, Half Nelson – all for you!
When the shaping instructions are applied, look how beautifully the stitch pattern is transformed! It reminds me so much of a delicate necklace.
The instructions for shaping Half Nelson, many stitch patterns from the book (including additional ones not featured in my review), and an interesting discussion about reversible knitting, all after the fold!

1. In what projects would you recommend using the more open stitch patterns, such as Half Nelson, Lacy "S" Rib, and Tilted? Do you think they have enough structure to be used in something like a sweater, or are they better off being used as something decorative, such as the outside of a lined bag?
Lynne: I hadn't thought of using these open stitches as the outside of a lined bag, but I think it's a great idea, and the lining would give the bag additional strength.
For a stitch to have a range of usefulness, I think it needs to be shapeable, so I've played with shaping Half Nelson. I knit a sample where I increased one repeat at the beginning and end of row two to create a triangular shape. It was worked with Alchemy's Bamboo, pressed afterward with an iron, and it made a wonderful slinky fabric. A small piece could be used for a necklace, or made larger into a shawl.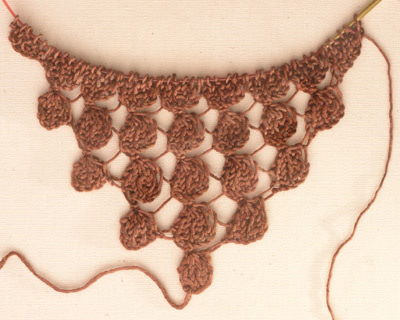 Row 1 and BO Row are unchanged from book, and the changes to Row 2 for the increases are in blue. If anyone wishes to only increase at one side, then just work the blue instructions on that side. The sample shown begins with 6 sts, but any multiple of 6 works.
Row 1: *[K1, p1] twice, k1, turn; [p1, k1] twice, p1, turn; [k1, p1] 3 times; repeat from * to end.
Row 2: AO-h 1 st, CO 5 sts with Knitted Cast-On, [k1, p1] 3 times, *[k1, p1] 3 times, pso5, turn; k1, turn; holding working needle in left hand, AO-h 5 sts to left-hand needle, [k1, p1] 3 times across these sts; repeat from * to end; turn, AO-h 1 st, CO 5 sts with Knitted Cast-On.
Repeat Rows 1 and 2 until desired size.
BO Row: [K1, p1] 3 times, pso5, *wyif, insert tip of left-hand needle into the back of st on right-hand needle and purl, draw stitch on right-hand needle out an inch (see photo ), k1, pso1, [p1, k1] 2 times, p1, pso5; repeat from * to end.
Tilted can be shaped in a similar way to Half Nelson by adding a complete box to each side. Or for another option, the width of the fabric can also be increased or decreased by changing the number of stitches used for the boxes. I created a lacy cowl by working boxes all in garter in the round and decreasing the box size by one stitch each round.
2. Do you have suggestions for using stitch patterns with "little flappy bits," such as Checks and Flaps or Cut Cables? It seems to me that I should capitalize on their dimensionality, but I'm not sure I know how to do that.
Lynne: I usually knit small projects, such as scarves, socks, bags or pillows – things that can handle a lot of texture – so I haven't given much thought about what I would do with these in a garment. Since three-dimensional stitches add bulk, most people may not want to use them in sweaters, but do you think they could be used judiciously on cuffs or collars to give interest to an otherwise simple sweater?
Kathy: I agree. I tried to use Cut Cables in a hat… and it was pretty ridiculous :). In my defense, I couldn't tell exactly how three-dimensional the pattern was until I actually knit it up.
Lynne: Funny post! You're right about the photo not really conveying the dimension of depth, and I think that's true with other stitches in the book as well. Thayer did a fabulous job photographing them, but it's difficult not to flatten objects when you have to shoot them straight on.
3. When trying out some of the stitch patterns, I found myself wanting to chart them. I felt this would help me to see how the stitches flowed from one row to the next, as well as help me understand how to up- or down-size the pattern. However, with so many intricate maneuvers and working in three dimensions, charting proved impossible! And I assume this is the reason the stitch patterns aren't charted in the book (with the exception of the colorwork patterns, and the clothing patterns). Do you have any recommendations or tips for following the stitch patterns with only line-by-line instructions to guide us?
Lynne: When I started working on the book, I thought I would develop some way of charting the stitches too. Pretty quickly I realized that the charts would require so many new chart symbols plus a new way of reading charts that I thought they would ultimately be more confusing. And, in most cases the line by line directions didn't seem all that complicated. Some can be a bit lengthy, but I hope that once knitters start working a swatch, the pattern becomes understandable in such a way that knitters will be able to continue working without referring to the book. I've heard comments by knitters who found that to be true of some of the very unusual scarves from my scarf book. Though unusual, I think my work is really very simple, and what I had hoped to offer were ideas that knitters can tailor to their own liking.
Kathy: I definitely found this to be true for both the Drifting Pleats and the Linked Rib scarves from Knitting New Scarves
. Sure the instructions looked complicated and extensive at first, but the knitting was completely intuitive after a few rows, and I no longer needed to reference the book. I know this will also hold true for the stitch patterns in Reversible Knitting
. I think I just have a slight preference for charts. However, as we both found out, three-dimensional knitting is not easy to capture in two-dimensions using pen and paper.
Lynne: Given a choice, I would prefer the visual snapshot of a chart to written text too.
4. I'm absolutely amazed that the One-run socks are knit as one continuous piece of fabric, with only the cast-on and cast-off tails to weave in. What gave you the idea to try something like this, and how long did it take you to actually make it work?
Lynne: Not long. As soon as I knit the top band, connecting the lace front to the rib spine at the back of the leg, the rest just flowed. I had hoped this would be a fun design for knitters to modify – substituting other lace or textured patterns and altering band widths and numbers as desired.
5. Do you have any yarn recommendations for knitting these stitch patterns? I notice that many of the swatches in the book are knit in a wool or wool blend with a lot of body. Is there a good reason for this? Do you think there would be a compelling reason to work any of the stitch patterns in a silk? Cotton?
Lynne: I no longer have the label for the yarn used to knit the stitches, but I think it was a blend of merino, cotton, linen and soy, and the thickness was somewhat irregular. I thought if I could knit a stitch that looked good with a yarn that had some variation to it, the stitch would look fine knit with almost anything.
You ask about silk and cotton which are both yarns with a lot of strength, and I think that is an important consideration for some of the open stitch patterns such as Triangles and Tilted. I've knit a pair of socks with some tenuous connections similar to Tilted using Rowan's Felted Tweed that has 25% viscose and they've held up well.
6. In your opinion, what is the most complicated stitch pattern in the book to knit? Which one was the most complicated to create and refine?
Lynne: Pickup Overlay is probably the most complicated for others to knit because they will have to keep turning their work in different directions – not just right to left, but also bottom to top. Even though I've written it as a repeatable pattern, there was a free form feel to it as I created it. It's like painting onto finished knitting with more knitting. I had hoped that as knitters worked a swatch and recognized what I was doing, they might be inclined to create their own designs this way.
Kathy: Pick-up Overlay is definitely one of my favorite stitch patterns because of its freeform nature. But I can see how all the turning can make it one of the more difficult patterns to knit. But I was also thinking that it might be possible to "apply the overlay" in a different color, almost like embroidering the fabric – is it?
Lynne: I've never tried embroidery, but you're right, the concept of overlay knitting is the same. Your idea of working an overlay in a different color is certainly doable and would be fun to play with. I think we'd see little bits of color from the contrasting yarn peek through on the stockinette side so that might be something to consider if the fabric was to be reversible. But maybe knitters aren't concerned with reversibility most of the time.
Flags may have been one of the more difficult stitches to refine, but I think making this judgment now is a lot like having a baby. Long after labor and delivery, we forget the pain. But I do think that this one took some back and forth tweaking to get both sides to look right to me.
Kathy: I'm glad you took the time to work out Flags, because it is easily one of the most beautiful stitch patterns in the entire book!
Lynne: I'm glad you like that pattern. At the end of Row 1, the units looked somewhat like separate little pennants on the needle. When I finished Flags, I thought those little units could be maneuvered in another interesting way, but I needed to keep moving on other stitches. Maybe if you knit a swatch, you'll have the same feeling and come up with a different variation.
Thank you Kathy, for taking the time to talk. I've enjoyed it.
Kathy: Thank you, Lynne, for giving me a little more insight into your world of Reversible Knitting!
0
likes