Remember glorious Vestvember, and the wee-est Vestvember vest? Although those snow-less autumn days are behind us now, vest-making seems to be here to stay: at the end of November I started a second vest. This vest's claim to fame is being the opposite of wee, because it's a vest for my mom.
The style requirements were pretty straightforward: simple, taupe, v-neck with buttons. This was the example my mom showed me. The yarn choice was open-ended: just something warm to wear under her lab coat at work. My preference was a wool yarn which would knit to a respectable gauge, as I had no desire to make an adult sweater using fingering or even sportweight yarn.
Although I contemplated many options, the perfect yarn jumped into my hands when I visited Wild & Woolly the day after Thanksgiving, November 27th.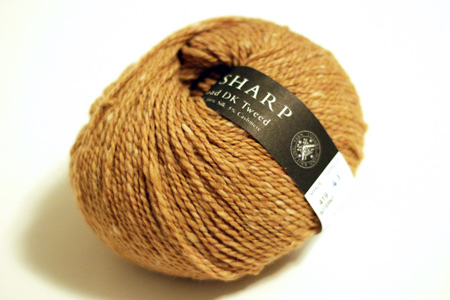 It's Jo Sharp Silkroad DK Tweed in Butternut (#419). Wild & Woolly had a full bag of this in the clearance bin – score! The color is exactly what mom wants, and the tweediness will allow even a simply-styled vest to look interesting, I think. Ravelry warned me about this yarn's abundance of VM (agreed), knots (yes, at least one in every skein), and tendency to stretch.
While I could do nothing about the first two imperfections, to combat the last one, I used a slightly smaller needle size than recommended (US 5) and made sure to base my vest measurements on the washed and dried swatch. In my hands, the gauge was something like 5 spi and 8 rpi, which satisfied my "no sportweight, please" requirement. Overall, I really enjoyed working with the yarn, which knits into a beautiful, drapey fabric. I did not find its flaws to be enough of a deterrent, and would definitely use it again.
The vest pattern was a homemade chimera. I auditioned a few different stitch patterns, starting with the one used in Her Llama Cardigan from Knitting Classic Style
. While I didn't like the main stitch pattern worked up in the Jo Sharp, I really loved the way the twisted rib looked. So I kept that detail for the hem, armholes, and button band, and as a defining detail along the edges of all the pieces. Next I tried the stitch pattern from the Portland Tweed Zip Vest. It wasn't a winner for me, but I continuously used the pattern's sizing information for guidance. Last, I asked my mom to measure a cardigan and a fleece vest that fit her well to determine the target finished dimensions. She supplied me with a number for each of the letters in the rightmost schematic, and I took an educated guess about how to make them happen. All of this information was overlaid on simple stockinette, which I decided was the best-looking stitch pattern for this yarn. Sometimes simple works the best.
Knitting miles and miles of stockinette was not as terrible as it sounds. Many days the weather was lousy and/or I was cooped up in the house with a bad ankle – I just wanted to sit on the couch, watch mediocre TV, and not look too much at what my hands were doing. Because each piece of the vest was so large, I was nervous about the fabric potentially stretching in a way that a small swatch couldn't capture. I wanted to catch any discrepancies as early as possible. So, I blocked each piece of the vest individually as I finished it and confirmed the measurements before casting on the next one. Then after attaching the button bands and finishing the armholes, I blocked the whole thing all over again. I had to do this because the twisted rib also grows a bit once wet.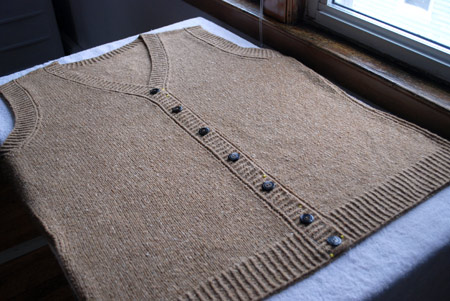 The vest is done, though I say that somewhat hesitatingly. The hesitation stems from the fact that my mom hasn't even approximately tried on the vest. I haven't seen her since September, and I relied on her to determine the target measurements. Like an idiot I keep measuring and re-measuring the finished vest and comparing the numbers to those in the schematic. They match. So, I'm crossing my fingers that it all works out.
I will visit my mom shortly and see for myself how the vest fits (or doesn't). So, this is not the FO post, just an introduction and some background ;). The vest is a big, wet, soggy mess up above in that picture, and I haven't even mentioned the buttons. Stay tuned!
0
likes