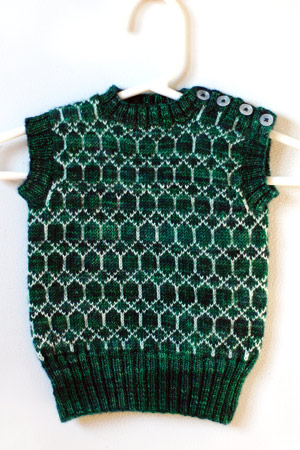 My Vestvember project is complete!
Pattern: Archie Vest from Kristen Rengren's Vintage Baby Knits
(my review/preview here).
Yarns: Madelinetosh Sock in malachite and Lorna's Laces Shepherd Sock in natural (0ns). I used a bit more than half a skein of the malachite (please note: Madtosh Sock is a big, 100-gram skein), and about half a skein of the natural (typical 50-gram skein).
I was very pleased to use up some stash yarn for this project. I picked up the malachite at a friend's destash sale about a year ago, and the natural is from Birds 'n Yarn, purchased who-knows-when for some project which never materialized.
Needles: US 1 for the ribbing, and US 2 for the colorwork, 16″ circs and dpns.
Finished size: 17″ chest circumference, 10.5″ from shoulder to hem.
I followed the book's instructions for the smallest size, but because my gauge was a little bit tighter than recommended (about 9.25 spi and 40 rpi in color pattern), this wee vest is only 17″ around the chest. Wow, I don't think I've ever made anything quite so small! This is truly newborn size, and will be perfect for a little baby born during this winter.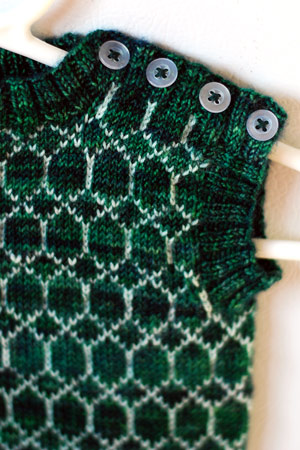 Though I made some modifications to the knitting instructions, I stayed true to its overall design: it's ridiculously adorable! As I mentioned earlier, I knit the vest in the round until the armholes. I also added a button band along one of the shoulder seams because the neck opening looked absolutely teensy, even before adding the ribbing. I knit the button bands and the neck ribbing as one continuous strip, working increases where the two would typically meet to create a pivot. The buttons are from the stash, and are ever-so-slightly different from one another (Shhh! Don't tell the mom! I don't think she'll be able to tell anyway.).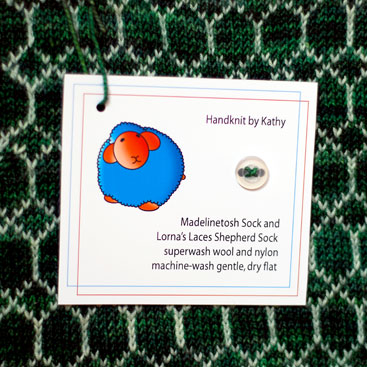 This was my first time working with Madelinetosh Sock yarn, and I really enjoyed the deep, saturated, and rich malachite colorway. The dye did come off on my fingers as I was knitting, and the yarn bled quite a bit when I blocked the vest. Not enough to stain the towel on which I laid the vest to dry, and not enough to visibly fade in color (though who knows what will happen after 10 additional washes). I think some of the dye bled onto the white Lorna's Laces yarn, but without high heat and a setting agent, I don't think the change was drastic. I will advise the mom against wearing this vest on top of, say, a fancy white button-down shirt (ha!), because I think it would pick up some green around points of friction, like the armholes.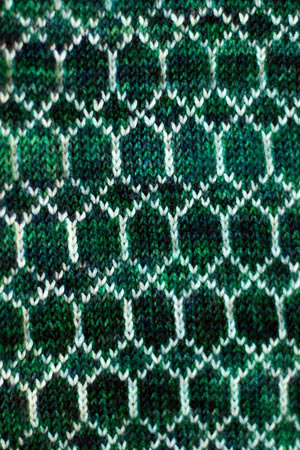 I was a little bit hesitant about knitting Fair-Isle-style above the armholes, where I would be working back and forth, stranding while purling. Truthfully, it wasn't a big deal at all. First of all, we're talking only a handful of rows. Second of all, I have two words: Buffalo Sweater. Sheesh! Knitting that sweater was a challenge like no other. And I most certainly stranded and intarsia-ed on both the right and wrong sides while knitting it. A few rows of stranded purling on a wee Archie Vest?!? Psshhh! Don't even! I think I was able to maintain decent tension, and blocking helped, of course. Here's what the wrong side looks like in that area: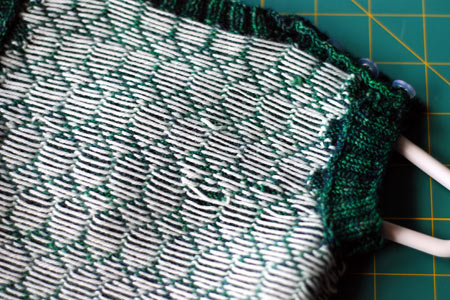 I think you can see here how the two yarns have no interest in sticking to each other, at all. Steeking would have been tricky, indeed.
Emboldened by this experience, I decided to tackle yet another sweater which would require stranded purling: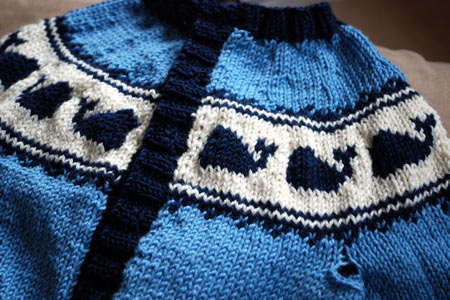 It's the Pod of Cetaceans Cardigan by Elinor Brown! It has wee whales! I'm close to being done, though a last-minute misreading of the instructions had me ripping back both button bands and the collar last night. Le sigh. Stay tuned for some FO pics!
0
likes