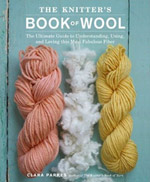 I think I can pinpoint two distinct events which prompted me to order Clara Parkes' newest book, The Knitter's Book of Wool
. First, Clara mentioned the upcoming release of this book about a year ago, when she was the guest speaker at a Common Cod Fiber Guild meeting. She said that even though there are dozens of sheep breeds, and countless ways to process their wool, what we see most commonly in our local yarn shops is 100% superfine merino. "She's right," I thought. It's an obvious fact which, until that moment, didn't really sink in. I came home, looked at my stash of wools, and was hard pressed to come up with anything other than merino.
(Side note: I do have quite the collection of non-wooly fibers, including linen, soy, cotton, silk, chitin, synthetics, and the like. But that type of variety was simply missing in my wools.)
Certainly merino is the right wool for the job sometimes, but in which instances? And for projects where merino isn't the right choice, which wool should I pick? And where do I get it? And how should it be processed, spun, and plied? So many questions!
Clara broadly addresses these topics in The Knitter's Book of Yarn
, but the world of wool is deep and wide and sometimes Bluefaced. And certainly deserving of its own book!
Second, I have recently started to pay closer attention to… all things small-scale. For example, imagine this: a yarn handspun from a small batch of artisan hand-dyed fiber, which was purchased at a local festival from a small-production farm, shorn from a sheep named Janice. I know I would cherish that yarn and its entire lineage.
Furthermore, this is exactly the type of scenario that would allow a person to try non-merino wools! Just because you can't buy it commercially doesn't mean you can't make it! I'm not a spinner myself, but my eyes are wide open: when I go to sheep & wool festivals, I look for yarns which are not merino (for example, the Bluefaced Leicester I got at the last NH S&W).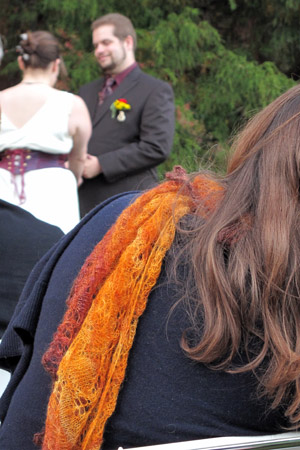 When friends parade around in drop dead gorgeous shawls knit out of yarns not available in any yarn shop, I ask, "What is this?" (Well, I actually asked, "Is this mohair?" because the mohair and I are not BFFs, heh.)
And thank goodness I now have a book to help me make sense of it all. Finally! Yes! I can definitively tell you that the Bluefaced Leicester I bought will be perfect for socks – more durable than merino, but still very soft (pages 38 and 62). I also learned that the Wensleydale wool from which Stacie knit her shawl is a longwool like Bluefaced Leicester! (page 40)
So, if you, like me, are interested in broadening your horizons beyond the world of merino, this book
is a must have. Clara Parkes details more than 30 breeds of sheep in the context of handknitting. That's important! No offense to the cute sheep, but I'm most interested in knowing whether their wool is good for a sweater or a shawl, not other random facts ;). There's enough solid information in the book to make sense of breeds not mentioned, too! Following that, there are some beautiful patterns using all kinds of wools, propelling us to explore all the different varieties, testing the properties for ourselves. I include pictures of some of my favorites in the extended entry.

Click on any picture to view larger
0
likes