With the weather becoming distinctly crisp and autumnal, I cannot help but think about hats, mittens, and other wooly goodies. The first warm accessory of the season was an easy one: I took the Rowan Silky Tweed that my husband picked out during our trip to San Francisco, and knit it up into a hat. A full post about that will follow (as soon the weather and my schedule cooperate). For the time being the only relevant detail is that his hat ate up a full skein of yarn, plus a few yards of the second skein. So, I had the majority of one skein of Silky Tweed left over (!).
Considering that my head is slightly smaller than his, and that I like my hats on the snugger side, plus I really love the color and feel of this yarn, there was only one thing to do with the leftovers: knit myself a hat!
I decided to experiment with my favorite stitch pattern from Reversible Knitting
(my review here), cut cables.
Unfortunately, I did not realize that this stitch pattern has three-dimensional spikes!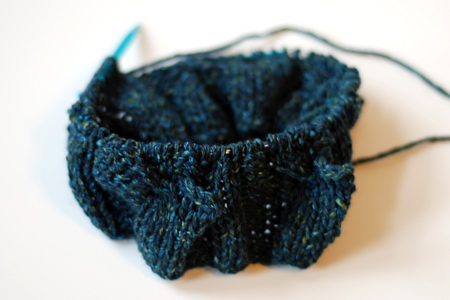 Yikes! I looked at the hat this way and that, and decided that although incredibly cool to knit (this stitch pattern has the awesome "divide and combine," just like the Linked Rib scarf), this would not be a welcome addition to my head.
In fact, upon seeing the spikes, I thought this might be good for a baby blanket. Don't babies like to grab on to dimensional and textural elements? And of course the pattern is reversible, a great plus for a blanket. With so many of my friends expecting, I had to give it a try.
I grabbed some Lana Grossa Cool Wool 2000 from the stash, quickly drafted a way to incorporate the stitch pattern on a diagonal, and cast on.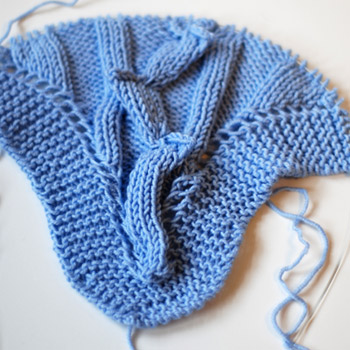 Uhm, not so much. I think it still looks a little bizarre, no? It's going to be tricky to find exactly the right garment or accessory to incorporate this stitch pattern. But in general knitting this got me thinking that swatches using stitch patterns from this book would look fabulous cobbled together in a blanket: interesting and reversible! And if this spiky cut cables is one square among many others, its unique personality would be evident, yet tempered :).
0
likes