My recent trip allowed me to get a good start on my latest lace project: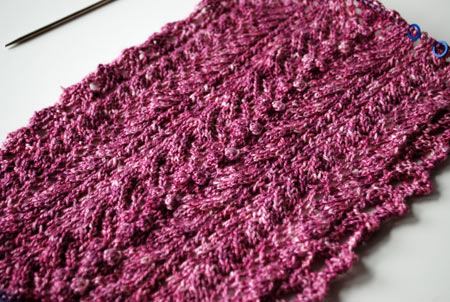 It's Willoughby by brooklyntweed Jared Flood, knit in Sundara Yarn Fingering Silky Merino, Sugar Plum colorway. Can you believe the awesomeness of this project?!? One of today's hottest designers combined with one of the most gifted color artists! I can hardly stand it!
I was sold on the pattern instantly after seeing Jared's photos. The gorgeous, flowing lace, the intricate border (delightfully familiar!), my favorite rectangular shape, and, of course, the bobbles! Bobbles call my name every time, even after having knit 2260 of them.
After downloading the pattern, I also realized that Jared incorporated the border in a most creative and clever way. And I'm a sucker for clever each and every time. I can't wait to tell you more about it some time soon!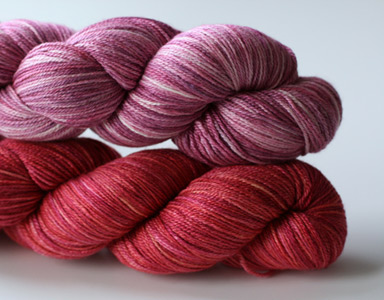 The yarn was already in my stash, and seemed like the perfect choice. I recently knit a skein of Fingering Silky Merino (Flaming Flamingo colorway, the one on the bottom in the photo) into a rectangular scarf, about 12.5″ wide by 74″ long. So, I think I can get a good-sized Willoughby out of one skein of Sugar Plum.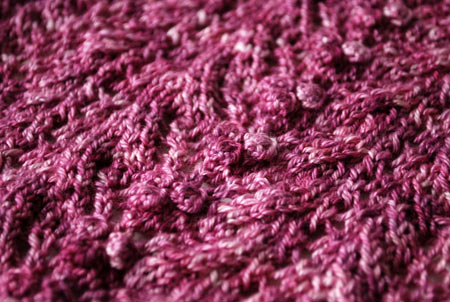 I'm tweaking the bobble directions ever-so-slightly to make them pop a bit more. The drapey yarn, which is also multi-colored, leads to sort of flatter bobbles which get swallowed by the background. Not ideal! Plus, I'm trying to make the bobbles turning-less (speedy and convenient!). I'll let you know the details once I have it figured out myself ;).
0
likes