Remember how I got myself a gift for my knitaversary?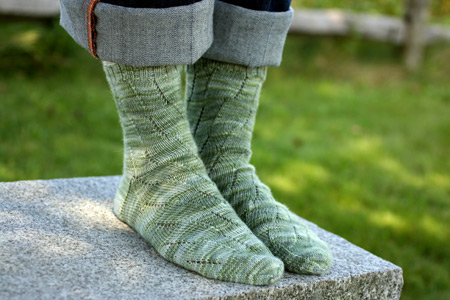 Ta-da! It is now socks. For my grandma ;).
Pattern: Sunday Swing by Kristel Nyberg, from the Summer 2009 issue of Knitty.
I had really fancy plans for this skein of yarn – cables and lace and all kinds of complicated patterning! But the colorway proved to be more variegated than I initially anticipated, and this is pretty much as intricate as it would allow itself to be. Thanks to Abby for pointing me in the right direction – the Sunday Swing pattern was perfect!
Yarn: Fleece Artist Trail Socks merino/nylon blend (from Tidal Brook Yarns
); Peridot colorway, 1 skein.
Needles: Susan Bates US 0 dpns
. My favorites for sock knitting.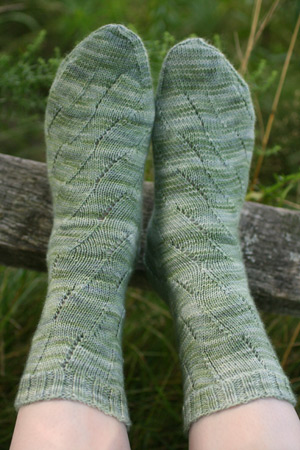 I made only three modifications to the pattern, two immediately evident in the photo above. First, I knit 2 X 2 ribbing instead of 1 X 1. That's a standard change for me, I never like the way 1 X 1 ribbing looks. Second, I knit the second sock as the reverse-image of the first by simply reflecting the charts in my head (alternatively, you can look at them in the mirror). You can't see the third modification in the photo, but you'd be able to feel it if you put on the socks: I included a teeny bit of calf shaping. I simply cast-on 72 sts, then omitted some of the yarn-overs while I knit the leg, ending up with 64 sts for the heel and foot portions.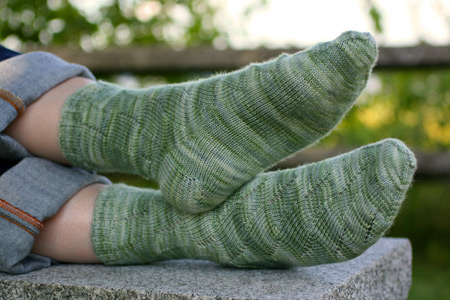 Trail Socks was a wonderful yarn to work with, but I didn't find it as cooperative as Lorna's Laces: it was spun a bit on the fluffy side and was therefore somewhat splitty. But the colors, oh, the colors! It was a joy to see each stitch emerge.
When I visited my grandma last week, one of the socks was done and she pulled it on – a perfect fit! I think I know by feel alone how much bigger her feet are than mine, and how loose the socks have to be on my feet in order to fit hers.
I also had the opportunity to inspect some of her current sock collection. It's not something she usually lets me do because "each pair is perfect and her favorite." She doesn't like to show me which socks are falling apart, which don't fit particularly well. On this rare occasion I observed that pretty much all socks, old and new, wear out exceptionally quickly on her heels… not the back of the heel, but the part where we usually "turn the heel." So, I'm thinking of weaving in some reinforcement thread, like I did once before, into that area. I wish she'd let me know if this helps, if it will make the socks last longer than others, but I know it won't happen. But if she lets anything slip, I'll let you know :).
0
likes