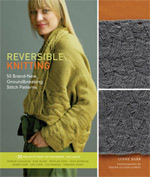 My friends, I am blown away. That's the simplest way to put it. You might remember Lynne Barr's Knitting New Scarves completely and totally mesmerizing me. I didn't think anything could top it! But I was wrong. I preordered Lynne's newest publication, Reversible Knitting
, sight unseen, because I knew it would be fantastic. But I wasn't prepared for what I saw inside. I didn't even realize things like this were possible!

Before I start yammering away about stitch patterns and cables and whatnot, let me mention that this is an STC Craft | Melanie Falick Books production, with photography by Thayer Allyson Gowdy. I know those names ring a bell… a bell of awesomeness! (Knitting Lingerie Style, Knitting Nature, and Vintage Baby Knits should all sounds familiar :)). This particular book is beautiful: hardcover and weighty (192 pages), with large, clear, stunning photographs. Worthy of any coffee table.
As for the content… well, let me say this: I thought I had every stitch dictionary in the world, but I was totally mistaken. The first part of the book showcases 50 reversible stitch patterns like I've never seen before. They are innovative and completely unexpected, intricate and three dimensional. They are not combinations of knits and purls that look the same on both sides, and they are not standard reversible cables that we know and love. Instead, they look something like this:
(click on any picture to view larger)
On the left is an innovative stitch pattern called four-by-four shift which looks identical on both sides; in the middle is drop loop steps, which looks textured on one side, but simple and tidy on the other; on the right is cut cables, which has two distinct sides, both worthy of being called "the right side."
The techniques used to achieve these stitch patterns vary from super simple to the sort of fancy diagrams and needle acrobatics which hooked me on Knitting New Scarves ;). Click through to the extended entry to see more stitch patterns!
The second part of the book contains 20 designs by Lynne and others which utilize the idea of reversibility. Some items are truly identical front and back, inside and out. Others offer different looks depending on whether they're worn inside out, backwards, upside down, folded over… you name it.
My favorites are these two sweaters: the gray is winding path by Wenlan Chia, and the yellow is reverse me by Norah Gaughan. Both can be worn upside down, turtleneck and shawl collar morphing into tunic fabric around the hips. The turtleneck and cabled collar are, of course, reversible so they can be folded over. Brilliant! More projects in the extended entry!
For me, the genius stitch patterns are alone worth the price of admission, though not without grumbling, "I wish I would have thought of that myself!" 🙂 I'm happy to have had Lynne Barr do the creative thinking for me. Now it's only a matter of applying. All boring projects have been put on notice accordingly.
0
likes