I don't have a bobble update for you today, but I did want to share some progress on my honeymoon blanket II.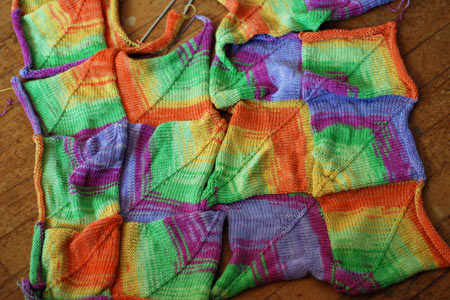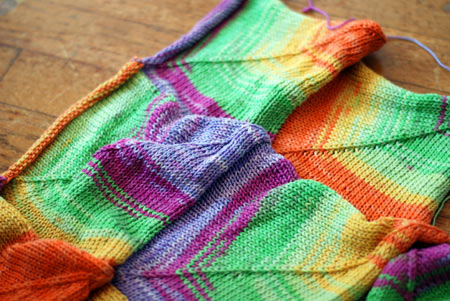 Katia Bombay is a great yarn for this project, I think. It is unquestionably colorful :). It is also tightly spun so I hope the blanket lasts through many trips to the washer and dryer.
But there have been a few disappointments with this project, too.
First, unlike the Katia Jamaica I used for honeymoon blanket I, Bombay changes colors more predictably and regularly. In other words, boringly.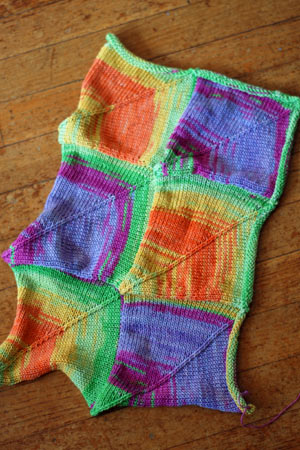 When knit up, it's many similar-looking squares in an alternating sequence. Also, I think you can tell from the photos that the squares pucker near their points. I don't think it matters for this blanket, since the edges get stretched and flattened by picking up stitches for the next square or seaming. But if you were considering this yarn for a sweater, please plan carefully – I think the fabric will droop like crazy.
Another thing which caught me off guard is that one skein of Bombay knit into six squares (each one 65 stitches at cast-on). I was hoping for nine, like the Jamaica version. I think the blanket will end up smaller overall, too.
The six squares out of each skein meant that my construction plan had to be modified. Observe and compare to the 9-piece: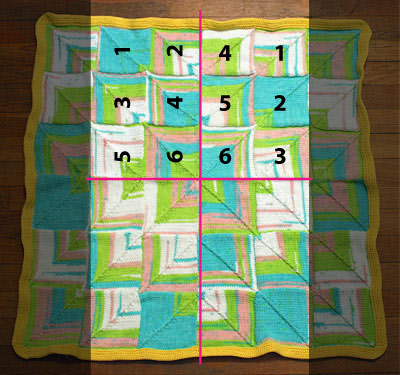 However, I didn't realize this until I tried to maneuver the pieces for a picture for this post. D'oh!!!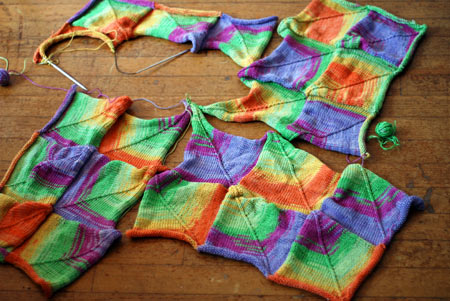 Oh, well. It won't be a complicated fix because all the squares are basically their own little entities. And I still enjoy the yarn, so this is just a way to stretch the knitting pleasure, right? 😉
0
likes