Here's the really funny thing – I distinctly remember writing down the instructions for putting together the honeymoon blanket. The detail which really sticks out in my mind? I remember specifying when to weave in individual yarn ends… because only someone as crazy as me would mention such a thing :).
But when I searched my blog, I saw only two entries pertaining to the honeymoon blanket, neither one containing these "ghost" instructions. I thought, "Oh, well, I must have drafted the post but never published, or maybe I composed it only in my head."
Lo and behold, a helpful reader named Elaine clued me in! A few days ago she wrote, "Just read your post about trying to figure out another Honeymoon blanket… You have been so kind in the past giving me a pretty detailed explanation, I wondered if it might also help you?"
Eureka! It ends up that Elaine e-mailed me a year and a half ago, asking me for an explanation about the order in which the mitered squares were knit. I wrote her back with detailed instructions, even included a schematic and noted when the ends should be woven in, and then promptly forgot all about it! And now, many moons later, Elaine returned the favor and forwarded me my own e-mail!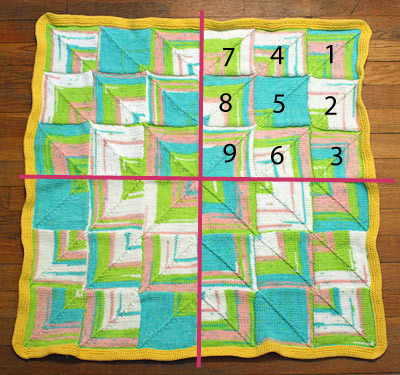 Hi Elaine,

I attach an explanation of exactly how I did this. I knit 4 large squares, as divided by the red lines. Each of those squares is composed of 9 little miters. I start in the upper right corner and knit a miter (over 55 sts) – that's #1. Then I pick up sts along its bottom edge, and cast on an additional 28 sts, and knit miter #2. Do the same to make miter #3, and then cut the yarn. Then I cast on 28 sts, and pick up 27 sts along the left edge of miter #1, and knit miter #4. I think now you can see how I proceed.

On top of that, when I'm knitting miter #6, I weave in the end of miter #3. And when I'm knitting #9, I weave in #6's end. The tail remaining after #9 is used for seaming along the red line.

Let me know if that's clear, and if you need any further help!

Good luck!

Kathy
And now, documented here on my blog, forever and ever :).
With a helpful tip from another reader, Abby, pointing me to the Sunday Swing sock pattern on Knitty, I think I'm all set for travel projects. I've got socks, the second iteration of the honeymoon blanket, and even a lace scarf (with bobbles!) that I'm rapidly trying to squeeze into the line-up. I even finished the reluctant Purl Beret! All very exciting things to show you once I'm back ;).
0
likes