Seven days to get my act together. Seven days until my vacation begins. Seven days until I spend hours at the airport, on airplanes, and in taxis. Seven days to figure out which audiobooks I want to "bring" with me, and which camera lenses ;). Seven days to get all my knitting ducks in a row. Or else!
As always, I'm plagued with indecision at the most inopportune moment. With CPSS and zigzag anklets happily completed, I'm currently entirely knitting-less. (The Flutter Scarf is in permanent time out – I'm not ready to deal with it yet.) Oh, the horror! I've written about this before – it's a very dangerous time for me. I end up making quick, bad decisions, and casting on… everything! And then ripping out 98% of the projects.
This time around, I took a measured, rational approach. I opened the doors of my yarn stash cabinet, and took out all the yarns I wanted to knit with "in the near future." There weren't that many, actually!
The first yarn I yanked out was Koigu KPPM (color # 1160). Undoubtedly you've heard me mention this yarn before, namely as it relates to my inability to transform it into socks. Almost as if to prove that I could make it work (somehow, somewhere), I've been itching to use it again.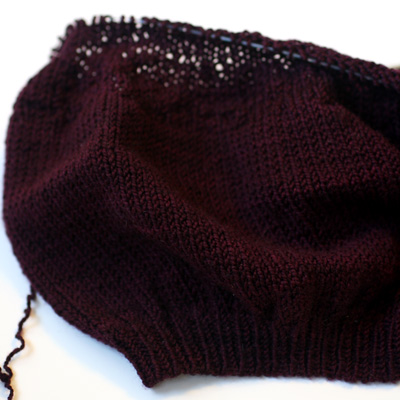 I decided to cast on the Purl Beret, using US 3 needles. (Side note: I knit the ribbing using US 0 needles, and I would recommend you do the same – otherwise it's too loose.) The knitting was simply delightful! The yarn felt wonderful in my hands and on my needles. The fabric manages to be both nubbly and drapey at once. For the record, my gauge after blocking is somewhere in the 6 spi range – sportweight, in other words. This tension feels just right to me, which of course makes sense considering that sock gauge (8 + spi) was such a problem for me.
While the yarn and the knitting have been a positive experience, I'm having a lot of trouble making this beret fit the way I envision it should. The 3″ of straight knitting recommended in the instructions resulted in an oversized hat of sorts (i.e., too small). When I upsized the straight portion to 4.5″, the beret was too slouchy after blocking. Perhaps you can see in the photo above, I'm once again re-knitting that part of the beret, this time with a 3.75″ straight section. It must work, right? Koigu is too fantastic as this beret to not work.
Whatever the resolution of this beret saga, the little project cannot sustain me as I travel cross-country. More projects need to be cooking!
Next, I pulled out some sock yarn.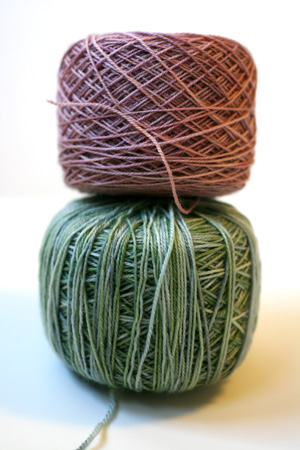 These are the two skeins of sock yarn that I'm most excited to knit up. On top: from this year's New Hampshire Sheep & Wool festival, Paddington British Blue Faced Leicester 3-ply superwash wool, in the Ashes of Roses colorway. On the bottom: my knitaversary gift to myself, Fleece Artist Trail Socks merino/nylon blend in Peridot.
I've been leafing through every sock book in my library trying to find a good pattern for either of these yarns, but so far, no luck. Paddington is a bit on the thin side, and Trail Socks seems to be beautiful as stockinette only. It's tricky! I've cast on the Trail Socks skein at least 6 different times already, never getting further than 2″ of knitting. Argh.
Feeling incredibly frustrated, I decided to try something else – a yarn store! One of the yarns which almost made the top 5 in my knitaversary post is Katia Jamaica. I loved, loved, loved knitting the honeymoon blanket! It was simple, peaceful, beautiful, and relaxing. No math, no stress, no notes… With another long trip coming up, I thought I would knit another!
Off I went to Mind's Eye Yarns, my local Katia distributor. I was shocked to learn that Katia Jamaica has been discontinued! Fortunately, a similar yarn has been introduced in its place: Katia Bombay.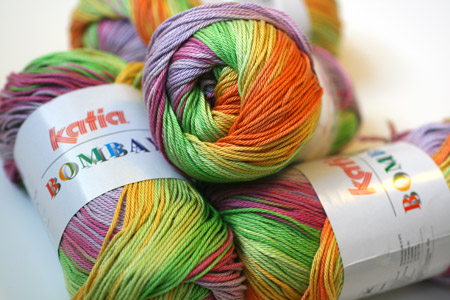 Bombay is mercerized and thinner than Jamaica. Otherwise, it is every bit as colorful, contains the same long stretches of color, and is also 100% cotton. The yardage is pretty good, as is the price. I got 4 skeins of colorway #2005, and expect them to knit up into a blanket similar in size to the honeymoon blanket (31.5″ along each side).
Very exciting, right? One small problem: my notes about how I knit the honeymoon blanket are so cryptic. Srsly. I'm usually very thorough about detailing my mods, but this time I can't make sense of them, at all. I've been studying my pictures and my posts, trying to piece it back together. If I figure it out, I promise to write a more thorough description ;).
Last, but certainly not least, I found myself to be very inspired by the latest issue of Interweave Knits.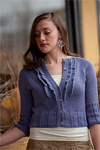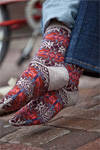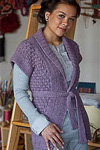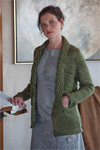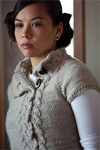 I know better than anyone else that I'm not a sweater knitter, but once in a while these gorgeous creations pull at the heart strings, you know? I remember there were two others which caught my eye back in December, too. For me, sweaters are never good travel knitting (always with the modifications, sheets and sheets of modifications), so for now I will only mention them. Probably I'll never knit them at all, but a mention was required ;).
0
likes