Today I'm delighted to showcase three projects from Kristen Rengren's new book, Vintage Baby Knits
. As you might remember, I wrote a quick review/preview of this book back in May. I mentioned that I knit three of the samples – Daisy Soakers, Frances Nursing Shawl, and Stella Pixie Hat – and today I will tell you a little bit more about each of them. Information about entering to win your very own copy of this book is at the end of the post!

(Click for bigger)
Daisy Soakers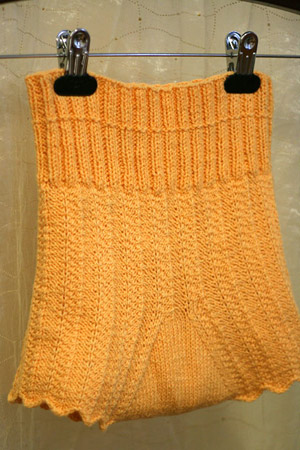 O-Wool was one of those yarns with an awesome rustic feel. I don't use them often, but when I do, I love them! Nubbly, wooly, sheepy… great to touch and knit. The fabric came out very thin and drapey, actually, but at the same time I know it's super absorbent.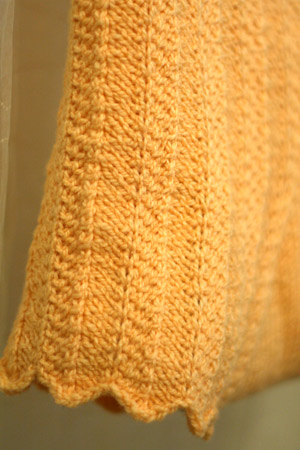 The soaker pattern was very simple and straightforward, even the lacy bits. The back of the pantaloons (that's what I always called them – pantaloons, haha) has a bit of short-row shaping, which is very clever. I think I could knit a pair in a weekend if I was really determined :). If I were to knit this pattern again, I would consider working front and back in the round after the initial set-up rows.
Frances Nursing Shawl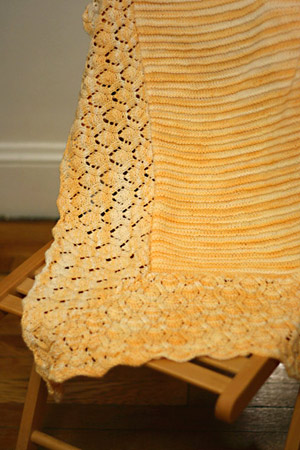 What I remember the most about knitting the Frances Nursing Shawl is that it took for-eeeever! Using Blue Moon Fiber Arts Socks That Rock Lightweight in the Hoofle Poofle colorway and US 5 needles, I started by knitting the garter stitch center. Those of you who've used this yarn know that it's incredibly sproingy and squishy. As a result, the fabric was wonderfully dense and textured, but the yarn was being eaten up at an ungodly rate! Kristen decided that substituting a simpler knit-purl pattern, one which didn't contract as much and used less yarn, would be okay. I started over, which was okay because the knitting flew off the needles!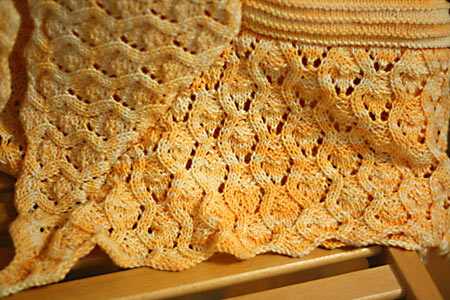 The lace edging was a pleasure to knit, even though I needed help from the tech editor to make sense of the original vintage instructions :). ETA: it's all sorted out now, and the directions are perfectly clear in the book version. The yarn, while being slightly variegated, did not interfere with the beautiful stitch pattern. It wasn't overly complicated, either: I had the whole thing memorized after working a few repeats.
The finished blanket was quite sizable: 47″ square and almost 2 pounds! If I were to knit this again, I wouldn't hesitate substituting a fingering weight yarn and sticking with the US 5 needles for a lighter-weight version.
Stella Pixie Hat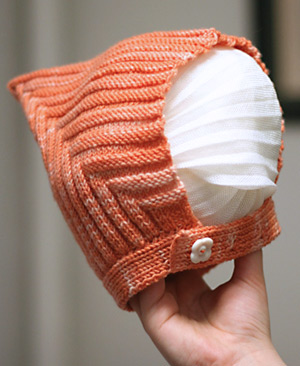 Please do not be frightened by my wadded up scarf masquerading as a baby head! Haha!
I think this was my favorite pattern of the three! First of all, Blue Moon Fiber Arts Socks That Rock Mediumweight is perfect for a pattern with ribbing like this one – it gathers, then stretches perfectly! From a wee babe to a small child, this hat would work perfectly! Second, the construction of the pattern is simple and clever all at once (I love clever, you know that!). Last minute baby shower gift? This hat is it, do not look any further.
Did I mention that you can download a free copy of this pattern from the STC Craft website?!?
The only thing I'll add is that I was able to find the most delectable little flower button for this hat! It's the second from the left in this lineup: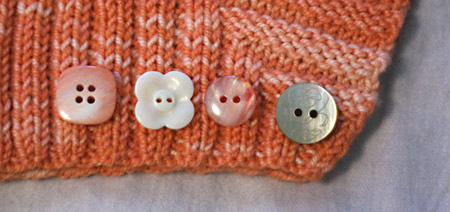 It's a vintage wood button I picked up at Windsor Button, though I sadly don't remember what type of wood it is. Don't you think it's perfect?
Additional info and prizes!
Thank you for stopping by the Vintage Baby Knits
blog tour! Again, you can read my review/preview of this book here. Kristen Rengren, the author, is currently running a series on her blog exploring various aspects of vintage knitting, so you might want to check that out. More information about the blog tour is here. Next up on the tour:
Thursday, July 16 – Blue Blog
Friday, July 17 – Handmade News
Monday, July 20 – Heather Ross
Wednesday, July 22 – House on Hill Road
Friday, July 24 – Handmade News
Monday, July 27 – STC Craft
Prizes! STC Craft is giving away a copy of the book, and you can find information about entering the giveaway here.
In addition, I have an autographed copy of the book that I'm going to give to give away to one lucky winner!
To enter, simply leave a comment!
Please use a working e-mail address. If I can't get in touch with you, you can't win!
One entry per person.
Comments will be closed Thursday (July 16th) evening.
Winner will be chosen randomly and notified via e-mail.
Good luck, and thanks for reading!
ETA: Comments have been closed, and winner notified via e-mail. Thank you for your entries!