Wow! Thank you, everyone, for leaving such wonderful compliments about the finished Crown Prince Square Shawl! Last week I mailed the shawl to my grandmother using barebones First Class Mail, and buck-seventy-three later, it arrived safe and sound, just two days later. I don't know if that makes me an idiot or just incredibly lucky.
Grandma was thrilled! Here are her comments: She loves the pattern and the color. She loves that the shawl is very thin and delicate – apparently that's the sign of something exquisite. Most importantly, she said that CPSS is a "true shawl", unlike Misty Morning. Hmmm???
Well, apparently in order for a shawl to count as such, it has to be a square! Triangles or elongated rectangles are not enough. And now that I think about it, the women in my family did not have any triangular shawls when I was growing up. Rectangles were only appropriate for simple silk or satin scarves, never knit stoles. Squares were king! (Even if they were usually folded in half, making a triangle, and tucked under coats.) Those of you with Ukrainian/Russian grandmothers, please take note :). I'm just glad that I was able to knit grandma something to her liking for her 80th birthday.
Anyway, with that monster out of the way, I'm excited to start some new projects. I'm feeling a little bit overwhelmed because I accrued some awesome yarns during the spring, and I want to use them all! Right now and all at once! At the same time, I want to make good choices. Otherwise, I will cast on a gazillion things, and all will end up being ripped. You know how it goes…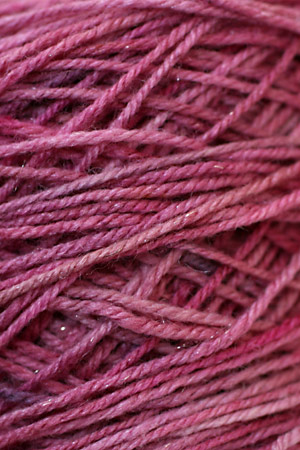 First up: Silver Optima from Mocha's Fiber Connection. See those white flecks? Those are not cat hairs. Correction: those are not all cat hairs :). Some are thin strands of silver! Shiny! The yarn is composed of 63% superwash merino, 20% silk, 15% nylon, and 2% silver (Raspberry Crème colorway, 420 yards, 3.5 oz). I picked it up at this year's New Hampshire Sheep & Wool Festival.
In choosing a pattern for this fingering weight yarn, I knew that I wanted to knit it up into a scarf. I first considered something crocheted (as one does), maybe the Cassia Scarf or the Alpine Frost Scarf. But I think crochet uses yarn in more dimensions than knitting, and I was afraid that the beautiful variegations of the yarn would be lost if it was crocheted. Do you know what I mean? Knitting is pretty much left-right and flat, while crochet is left-right and up and down and wrapped from front to back. Instead of knitted V's gradually transitioning from one color to the next, there would be the risk of the the dc's (or whatever) coming out mottled.
Along the same lines, I thought, wouldn't it be nice if there were some sections of plain stockinette in my scarf-to-be? You'd be able to see the colors of the yarn and admire the silvery twinkles.
A few more hours surfing Ravelry, admiring this pattern and that one, and I think I found the perfect thing: Flutter Scarf by Miriam Felton.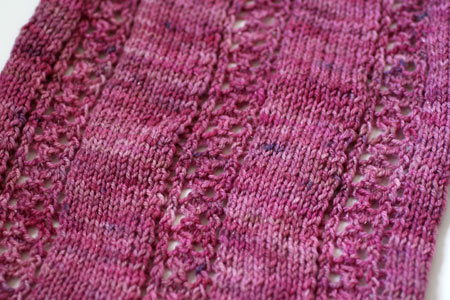 The yarn I'm using is heavier than the recommended laceweight, and I'm knitting it with thicker needles (INOX Express circs, US 4), all in hopes of making a scarf big enough for Boston winters :). Since the scarf is knit center-out in two separate steps, I of course weighed my yarn before starting – maximize length without running out, right?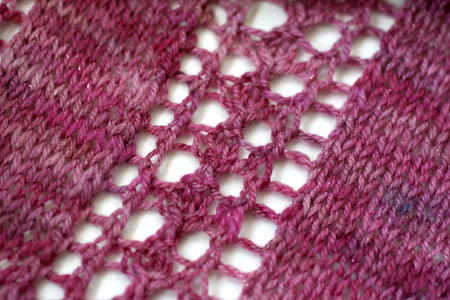 The pattern is simple and beautiful and clearly written (so far), and I'm really quite happy with how it's coming out.
As for knitting a wool scarf in July, just as the hot weather is finally here to stay?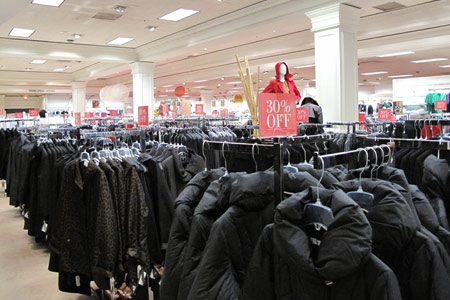 July 25, 2009
If my local Lord & Taylor is readying for winter, why shouldn't I? 🙂
0
likes