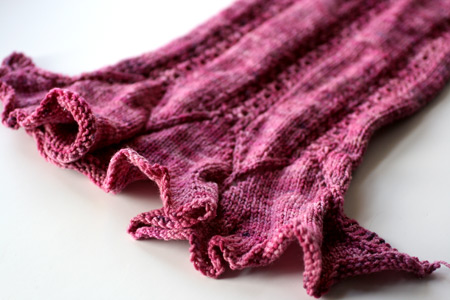 Ugh. This is so not going to work!
Don't get me wrong: this yarn, this scarf, and this flirtatious ruffle are all delectable!
It brings to mind two things: first, the failed Mac & Me ruffle scarf. I'm a frilly girl at heart, what can I say?!? (Except the Flutter Scarf ruffle is much easier to finagle than the gazillion-stitch Mac & Me one.) Second, chanterelle mushrooms. The size and volume of the frills is spot on.
I digress.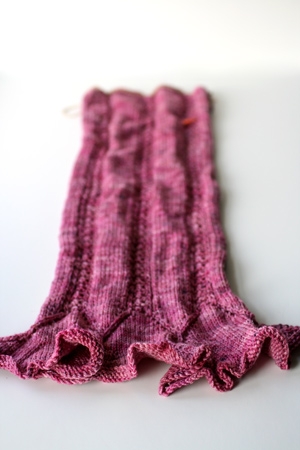 It's not going to work because the scarf will come out to be about 10″ wide and 44″ long. Ouch! I'm a fan of small scarves and all, but that's a really awkward width/length combination.
I was hoping that my 420 yards of fingering weight yarn could substitute nicely for the 440 yards of laceweight yarn specified in the pattern. But I think a lot of that yardage got eaten up by the scarf's width, leaving bupkis for the length. Potentially I could have also used a larger needle to maximize every little centimeter of the yarn.
And so, we frog. Just another day in the life of a knitter :).
I'm not entirely sure what I want to do next. If I stick with the same needle size (because the fabric is coming out quite nice – a good balance between warm and drapey) and:
work fewer repeats – 2 instead of 3 – my scarf will be about 7″ wide and 62″ long.
modify the stitch pattern to contain 3-stitch stockinette panels instead of 7-stitch panels, my scarf will be about 8″ wide and 56″ long.
No matter what, kind of small, right? Maybe I just don't have enough yarn to pull this one off. What do you think? Perhaps I need to sleep on it before committing to an alternate plan.
0
likes