So, how long do you think I survived with only CPSS on the needles? Answer: about 24 hours. As soon as the Child's French socks were done, and my super secret project blocked and photographed, I had to restock the WIP line-up. Had to! I spend a good amount of time on buses and trains, and as a passenger in the car: CPSS, with its multitude of charts and sizeable dimensions, just doesn't cut it when elbow space is at a premium.
The yarn came first: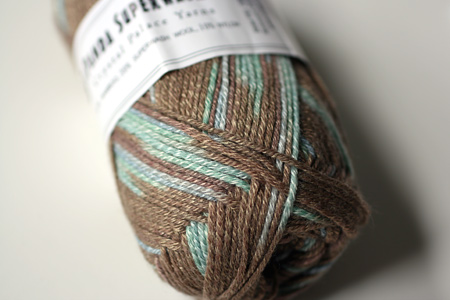 This is Panda Superwash from Crystal Palace Yarns in the cocoa mint colorway (51% bamboo/39% superwash merino wool/10% nylon, 186 yards per 50 gram skein). I loved this color from the moment I saw it. I'm generally not a huge fan of brown, but this one has grayish undertones, bursts of light aqua and green, and shiny golden flecks of nylon throughout. Somehow it works for me!
I've wanted to knit this yarn into a pair of lightweight socks for a while now. When I went hunting for a pattern, this description seemed perfect for the yarn:
Handpainted sock yarn has traditionally been made from wool, but new fibers like bamboo, Tencel, and soy are revolutionizing the options available to the sock knitter. These cuffed socks show off the sheen of a merino/Tencel blend, and the shorter style and cooler fiber blend make these the perfect option for warm weather.
Exactly! The quoted pattern is Zigzag anklets by Pam Grushkin from Knitting Socks with Handpainted Yarn
(my review/preview here).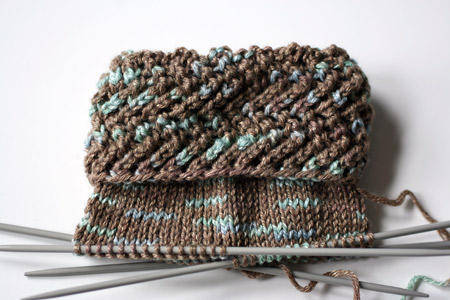 The yarn is a little bit thicker than the typical sock yarn, so I'm using 2.5 mm INOX dpns – the fabric is coming out wonderfully, I think.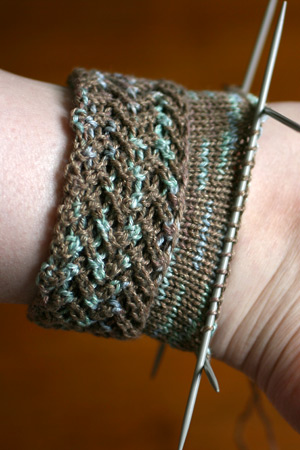 Perfect? Well, almost. Though I followed the instructions and cast on using larger (US 3) needles, the edge was still too tight to comfortably slip over my ankle. So I frogged the little bit you see here, and will now restart by casting on over two US 3 needles held together. After that, I'm anticipating smooth sailing and many happy moments on the train going to work :).
0
likes