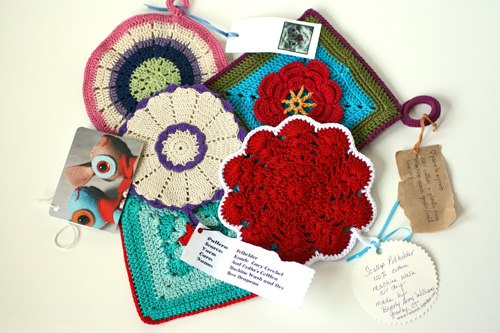 I was fortunate to receive my swap potholders shortly after the organizers divvied them up, and I'm beyond thrilled with the beauties I got in exchange for the potholders I made!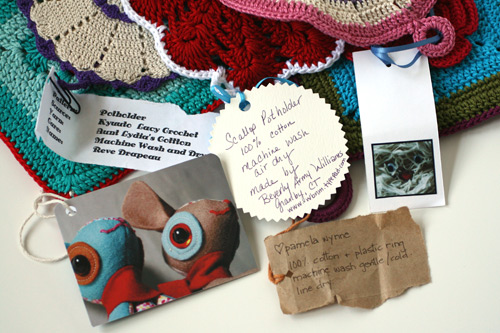 Of course I immediately had to note the creators of these little nuggets of art. I am actually a little surprised at myself – I didn't think I would care as much about who made the potholders, and instead would spend all my time looking at the stitches, patterns, colors, etc. But, no, I was genuinely interested and curious about the crocheters!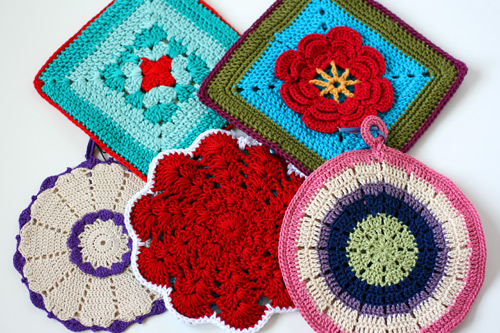 From Maritza, a vibrant roqua square! Leave it to Maritza to choose the most lip-puckering juicy colors in the crayon box. Her square is gorgeous, including the off-white backing.
From Pam, something a little frilly! Remember, I myself tried a frilly square way back when (and loved it!). Pam's square reminds me a lot of the potholders I myself crocheted – similar size, density, and feel. Naturally, it's a winner in my book!
From Reve, the most delicate, intricate, miniature crocheting I've ever seen! Wow! I think she must have used the equivalent of laceweight yarn for this. The purple petals are three-dimensional, and the border joining the potholder's front and back is single-ply, so it recedes ever so slightly. Amazing!
From Beverly, a textural sensation! The scallops of this potholder are squishy morsels of squeezable goodness, like plump ear lobes! I can't stop pinching it between my fingers. Pinch!
And last, but certainly not least, from Maryse, a colorful delight! This one is definitely my favorite as far as color is concerned. The pattern is wonderfully vintage, and the crocheting is perfect, of course. There's a reason Maryse is my crocheting guru :). I'm very happy to have one of her creations in my potholder collection.
I would report on potholder performance in the kitchen, except I have no plans whatsoever of actually using them as intended. I'm sensing five little hooks and a colorful potholder display instead :).
Huge thanks again to Adrian and Maritza, the organizers. I loved the way this swap was orchestrated, and I loved receiving five different things from five different people! You really hooked me up in this one!
P.S. If you received one of my potholders, I'd love to know! I know the orange/red/teal one ended up with Beverly, but what about the other four?!?
0
likes