I know the perspective is a little bit wonky, but can we please address this important question: is there, or is there not, a working needle in that piece of fabric?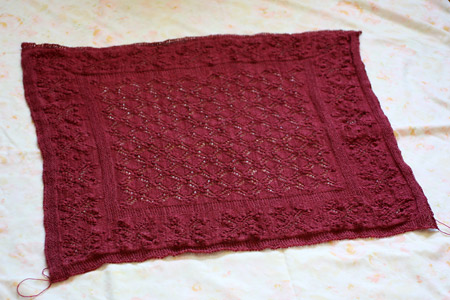 Booya! The center square of the Crown Prince Square Shawl is done!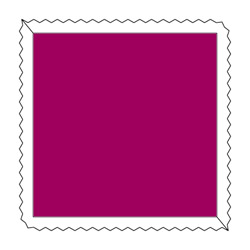 A little hard to believe, actually, because the whole thing seemed so daunting and huge at the onset! But, there it is, so close to being completely and totally done.
Only the border remains. That's not a very scary thought unless we stop and consider the following facts:
The border is made from two identical strips of fabric which are knit separately, then hand-sewn to the main square.
Each of the borders is knit lengthwise, beginning with casting on 409 stitches.
Gulp! But casting on 409 stitches doesn't sound so bad, does it? Especially if the stitches begin their life during So You Think You Can Dance :). They don't look particularly scary, either: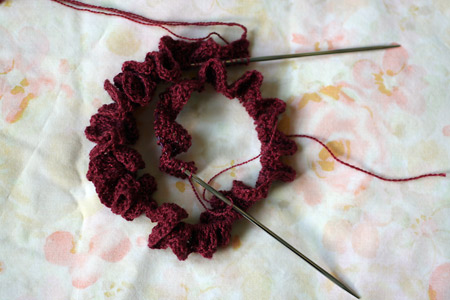 Just a wee ribbon of fabric.
One other complication: my needle keeps doing this kind of thing: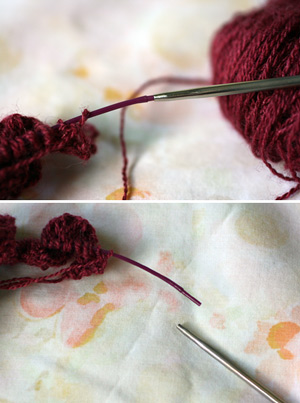 I'm crossing my fingers that with some nudging and Krazy Glue it holds together until I'm done with this project, at which point I'll just toss it (yes, I know I can call KnitPicks and get a replacement, but that just means I'd get another one of these needles).
I'm still wondering whether one skein of Lorna's Laces Helen's Lace will be enough for this entire shawl. I first noticed the seemingly unending nature of this yarn back when I was about halfway through the main square. A finished main square and part of the border later…
Only one way to find out if this will be enough! Finish knitting this border-in-progress, weigh it, compare to the yarn remaining for the second border, allowing a few grams for seaming, of course. I better get to it!
0
likes