Being a crochet novice, I often feel torn when I'm trying to troubleshoot a particular problem. I collect advice from many different sources, but can't decide which suggestions will be fruitful! I don't have time to try them all, unfortunately.
So, it was incredibly fortuitous that, at the very moment I was on the verge of making some decisions regarding my potholders and the swap, I learned I'd be seeing Maryse.
Now, when one knows that she is about to have audience with Maryse, one does not whine about having to drag all her crochet paraphernalia. Instead, one packs up all her swatches, yarns, hooks, books, and patterns, and presents them to the Wise One.
The process was very quick. Certainly going up a hook size might work for smoothing out the problematic Tricolor Square, but Maryse saw a larger issue – all my potholder swatches were much too loose! Floppy, holey, fluid, drapey… She waved one around and said, "This is good for a sweater, not a potholder!" Sigh. Agreed.
She ruffled through my hook set
, pulled out the C (2.5 mm) and told me that's the size she uses when making potholder fabric with DK-weight yarn. I had been using the F (4.0 mm).
I got to work, choosing to try out the smaller hook on yet another motif from 200 Crochet Blocks
: Circle in a Square.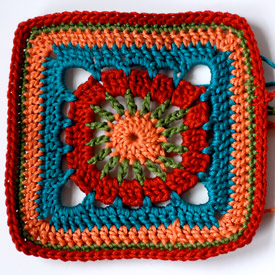 I love the way this square came out! It's firm, but not overly stiff. The stitches are neat and tidy. I know that beginner knitters (and crocheters, I guess!) often get sucked into making their stitches overly tight. I think it's because it's easier to control tension so the stitches look neater. There's a lower limit – the very tightest the yarn will allow – but no upper – you can always make the fabric looser.
The result is true for me, but not the reasoning. My tight stitches are neater than my loose ones, true, but I'm crocheting this way on purpose – I'm making potholders! I'm hoping that the firm, solid backing I'm planning to add (plus a simple border and a loop for hanging) will make the whole thing functional.
Only one minus: now that I've gone down several hook sizes, the square is puny! Once 6″ across, now it's 4.75″, max!
With that in mind I ruffled through my crochet books one more time. I was looking at the patterns differently now, searching for ones which could be upsized easily or which gave me good ideas for adding rounds to other squares. Also, once I saw how much stability the outer rounds of Circle in a Square contributed, I decided including a solid border would be an excellent idea. Here are the squares which caught my attention: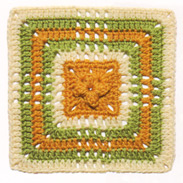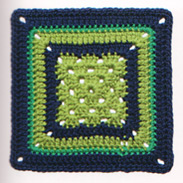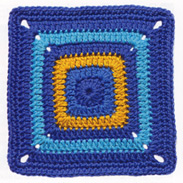 From left to right: Meadow, Centered Square, and Into the Blue. A bit different than the frilly squares I once considered, don't you think?
I know this is getting a bit long-winded and you're probably ready to see my final choice.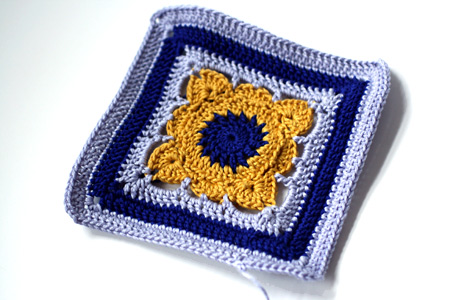 The Willow pattern, which I've shown you earlier, really stuck with me. Perhaps it was the colors I chose for my swatch. Or maybe it's the fact that the square comes out flat when I crochet it, from the very beginning (no need to pray for blocking to straighten things out). It came out wonderfully when crocheted with the smaller hook, and it has that solid border for keeping the dainty center in place. I thought I came up with a pretty solution for adding more rounds – the square is currently exactly 6″ across, and I'll stretch it a bit when blocking. I can crochet it with sets of three colors, which was my plan when I selected yarns in trios. I think that's enough reasons :).
I know my love for this square is true because finally I've taken the time to work in the ends (as I crochet, when possible) and I've even cut the yarns. Plus I've already started the second square!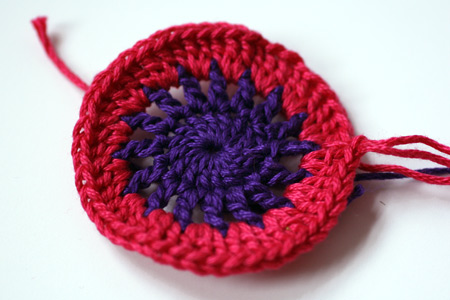 1
like