True story: I finished crocheting my potholders for the hot pads and potholders swap on Memorial Day. It was a bittersweet moment: after my late start, I was happy that they were finished on time, but I was so sad to say good-bye to this phenomenally-rewarding project. My husband commented on my apparent drop in mood, and we held a moment of silence for the completed potholders.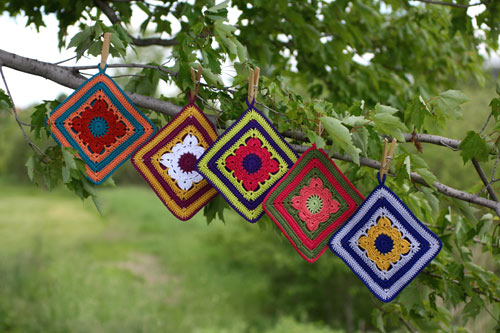 Pattern: from 200 Crochet Blocks
, Willow (#189) for the front, and Solid Square (#149) for the back. Both were modified to be denser (and, by extension, to contain more rounds) than the original patterns.
I wanted to mention that even though I ended up using 200 Crochet Blocks for my potholders (actual and practice ones), I found Beyond the Square Crochet Motifs
to be a great resource for techniques – sliding loop start, joining new colors, moving from one round to the next, weaving in ends, etc.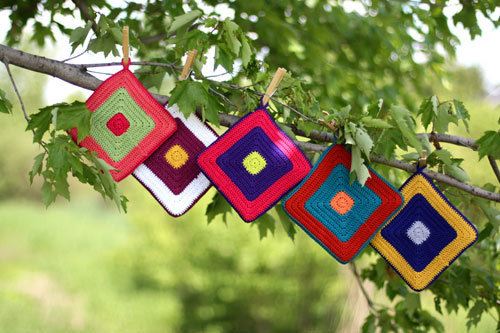 The Willow square had captured my attention from the very beginning – it's delicate and dimensional, but not overly complicated or flimsy. It can be made with combinations of three colors. It has little "windows," so one can play with the backing and what colors are peeking through. I can go on and on (it looks like I already have). Not surprisingly, other crocheters liked this pattern, too – look at this gorgeous set made by Color & Texture, and these combinations crocheted by Hillary. Love, love, love!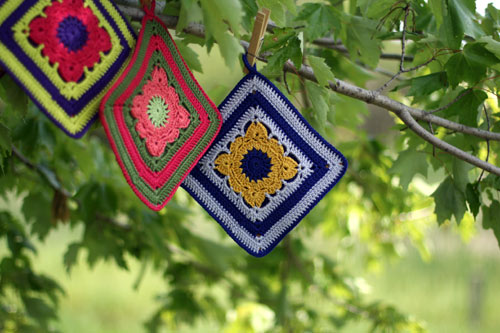 Yarn: Tahki Cotton Classic, 100% mercerized cotton, 108 yds/50 grams. Less than 1 skein of each of the following: 3001 (white), 3352 (orange), 3407 (tomato red), 3418 (magenta), 3453 (coral), 3456 (deep pink), 3549 (goldenrod), 3701 (light green), 3703 (dark green), 3723 (acid green), 3786 (teal), 3873 (dark blue), 3933 (light purple), 3940 (dark purple).
I absolutely loved working with this yarn – comfortable, sturdy, the right weight for this project, machine-washable, and dozens upon dozens of gorgeous colors! My camera often had a very hard time keeping up with the deep, saturated hues.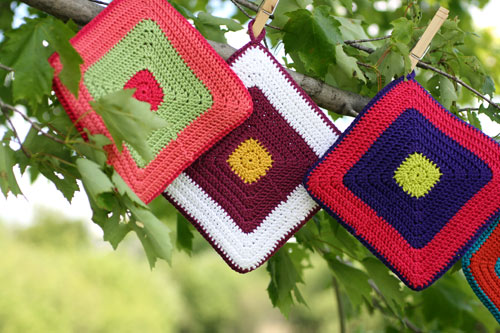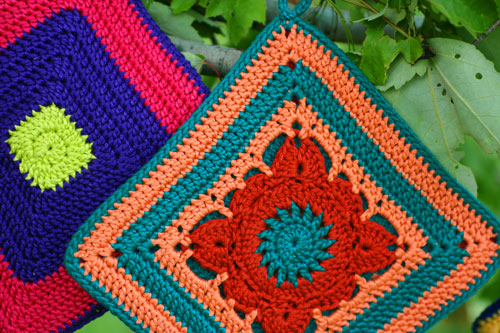 Crochet hook: size C (2.5 mm) from this set
(use code MAYA940 for 40% off). I know I've raved about this set before, and I stick to my opinion – it's amazingly comfortable.
Finishing and finished dimensions: I connected the front and back with a round of single crochet (per Maryse's advice), and finished them off with a little loop. After that, I ironed the potholders – medium heat, lots of steam. The fabric was pretty flat even before ironing, but this polished everything up. The potholders are about 6.25-6.5″ squares. They are cushy and solid, and I hope they are thick enough for actual kitchen use.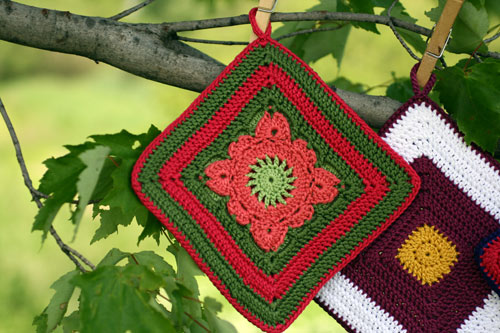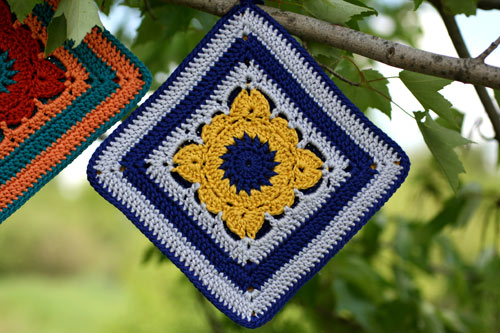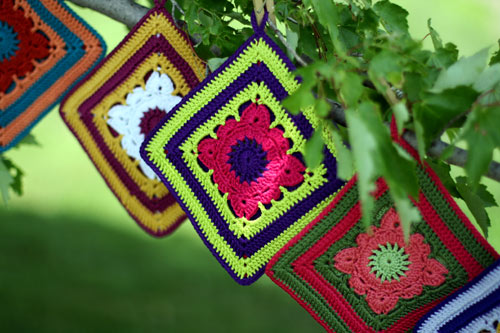 Last, but not least: crocheting potholders ended up being one of my favorite projects of all time. Who knew?!? I want to thank Adrian and Maritza for hosting this swap, and Maryse for her expertise and advice. A little at a time, crochet is becoming one of my favorite crafts, thanks in no small part to these ladies.
1
like