As many of you know, every year Claudia hosts a pledge drive to raise money for the National Multiple Sclerosis Society. She has been incredibly prolific, raising more than $32,000 last year!
To encourage contributions from fellow knitters, and to thank them for participating, Claudia enters the donors into a raffle chock full of fabulous crafty prizes – books, yarn, fiber… you name it!
This year I have decided to contribute a prize to her raffle: a custom handknit pair of socks! I will knit the winner a pair of socks, just like we used to do in the old-fashioned sock swaps (don't you miss them?), except it will be a one-way transfer. I will consider the winner's preferences, and do my best to select the fiber, color, and pattern that will work for them! Maybe it will be something from the stash or library, or maybe it will be something brand new. Who knows?!?
I have many reasons for contributing this type of prize, not the least of which is that I enjoy knitting socks, can't really wear them myself, and my grandma's sock drawer is way past saturation. Her loss, your gain :).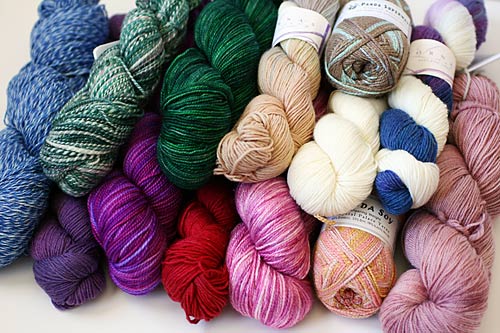 These are just some of my sock yarns. Now, I'm not saying that the winner's pair will be knit out of one of these, but it might happen. I have some fabulous stuff, if I do say so myself :).
For a chance to win this prize you simply need to contribute to Claudia's fund raiser (links on her sidebar). Easy and rewarding for everyone involved!
P.S. If it ends up that the winner of this prize has no interest in handknit socks, it's not a problem! I will instead knit a small lace scarf, hat, mittens, or something else with the same level of commitment as a pair of socks.
0
likes