My initial excitement over the hot pads and potholders swap, complete with shopping, daydreaming, and putting together potential color combinations, had to be reined in while I finished the never-ending Kiwassa. Goodness gracious, this was the shawl that never ends, it just went on and on, my friends! The target dimensions were 72″ across and 40″ from the top edge to the point. That's a lot of knitting! It's on the same scale as Mountainash! (Except, you know, not really – Mountainash was knit on US 2 needles; Kiwassa, on 5s. Ahem.) Fortunately, Kiwassa is blocking as I type this, and I'm allowing myself a sigh of relief!
So, I figure now is the perfect time to share with you some of the preliminary swatching I've been doing for the swap!
As someone who rarely enters the kitchen, the whole concept of hot pads and potholders is a little foreign to me. Here are some of my thoughts about them, undoubtedly flawed by to my lack of culinary experience:
Halp! So many things to think about!
With all these ideas buzzing around in my head, it's shocking that I even crocheted a stitch! Typically I'm paralyzed until the critically important issues are resolved. But, oh yes, I had the 72″ Kiwassa to help me get over the paralysis – something, anything, as a break from all that knitting!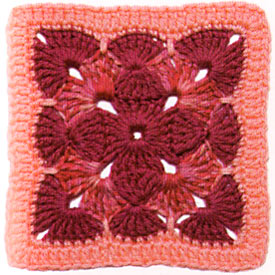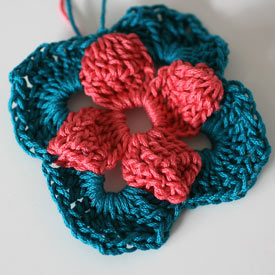 The very first block I tried was the Tricolor Square (#35) from 200 Crochet Blocks
. This is the very same block that Chawne crocheted!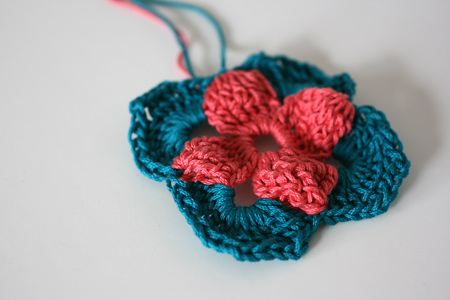 The sample in the book and Chawne's version lay nice and flat, while mine buckles and folds and generally misbehaves. I think 100% cotton is not the best choice for this type of pattern, perhaps? When I crochet "into the space", the strands of cotton do not compress/compact at all, so the intended "fans" of stitches become "arches". Doubt blocking will help much, unfortunately.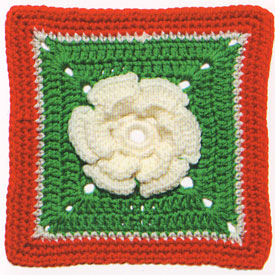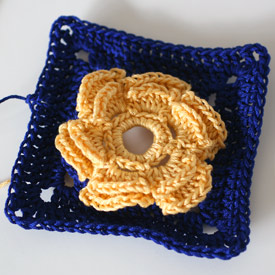 The second block is also from 200 Crochet Blocks
, called Christmas Rose (#28).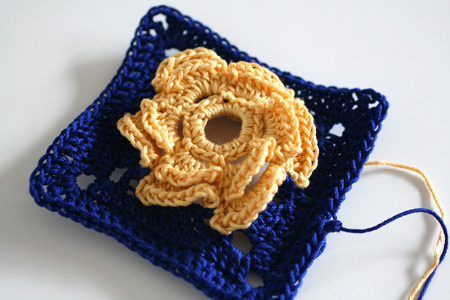 I have to tell you that I loved crocheting this frou-frou-ness! It was so much fun! And it appears the background will lay nice and flat, even though there's a "crochet into the space" element present. But back to one of my points above – is it practical? Can one grab the handle of a hot pot with a frou-frou potholder (let's assume it has a solid backing)?
There's one more block which I'm finding irresistible – motif #119 from Beyond the Square Crochet Motifs
. It's a pretty solid block which appears to be flat. The construction intrigues me! Looks like… short-rows or entrelac in knitting. I'll let you know how it works out.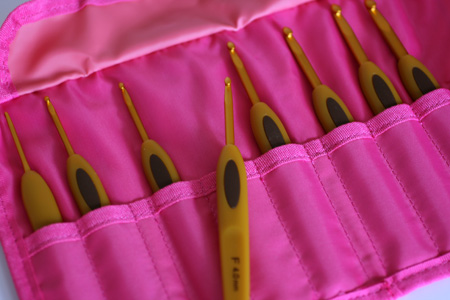 I'm putting up a picture of my crochet hooks
because they are absolutely marvelous! (Use code EED101 for 40% off this set.) They fit my hands perfectly, and they are definitely easier to grip than the simple Boye hooks I was using before. I've been crocheting all my swatches with the 4 mm hook, and it seems to work very well for my Tahki Cotton Classic, a DK-weight yarn.
0
likes