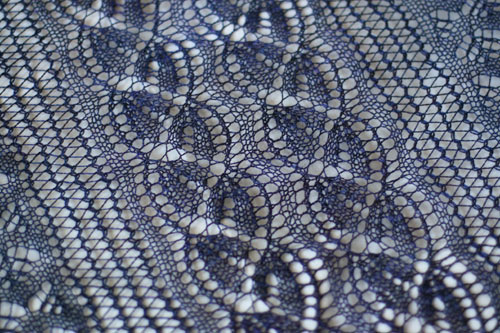 Let me be honest: at first I was not particularly excited about knitting the Path of Flowers stole. The yarn, Mountain Colors Winter Lace in Mountain Twilight, is a magical combination of dark blue and purple. However, I find knitting with nearly-black yarn very difficult.
On top of that, the finished dimensions of the stole are 25″ x 66″, which is freakin' huge. If my body was collapsed into two dimensions, I'd be 20-something inches wide, and 65 inches tall – the stole is the size of a human! And the pattern is pretty complicated: two charts to follow simultaneously, lace on right and wrong sides, and I haven't yet been able to memorize it…
But somehow I haven't been able to put this project down. I often pick it up in favor of crochet or socks, even! Though complex, the lace flows easily from one row to the next, so I can spot right away if I'm doing something wrong. On size 6 needles, the knitting is going pretty quickly, and I'm able to see the stitches easily, even though the yarn is dark.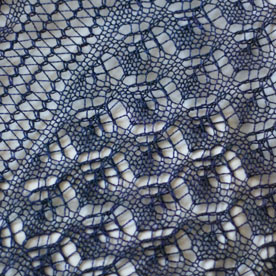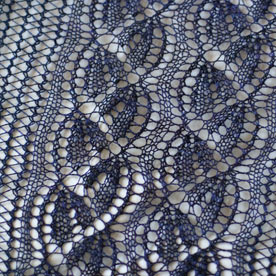 And of course it doesn't at all hurt that the resulting product is so photogenic. I can take pictures of this stole all day long and not get bored.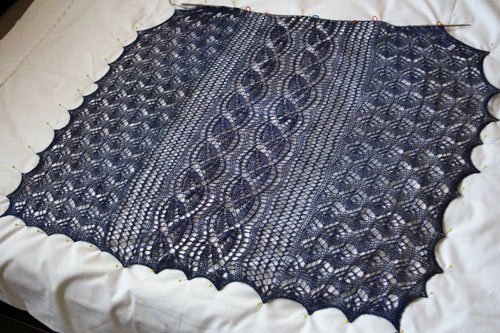 Just a week or two after casting on, I'm roughly 1/3 of the way through! After pinning out the fabric, my stole measures about 28″ wide and 23″ long. Yep, I had to get out the wide lens to get the whole thing into the shot :). I have another 3 weeks to finish it up, and I'm actually quite optimistic that I can get it done!
1
like