Can you tell that I've been feeling very torn lately? On the one hand, I've been trying to control my impulses: I've listed my "dangerous" projects publicly – it's a long and varied list, and I should really have no problems sticking to it! I've also revealed my extensive lace queue, and (for better or worse) these projects have definite deadlines, some approaching very, very quickly! Tick-tock, tick-tock, the barely-started Path of Flowers stole is due in a month! Gah!!!
On the other hand, I've been feeling incredibly distracted. The Anemoi-Lillyfield mittens? Remember those? Missing thumbs. Yes, both mittens were completed in, oh, February, but remain thumb-less to this day. What's up with that?!? The Child's French socks are taking me six times longer to complete than a pair of socks typically would. I'm sort of in disbelief… at myself!
And then to top it all off, I've bought some new yarns, joined a swap, and decided to learn a new technique.
Spring? Knitter's ADD? Maybe I'm polishing up my application for the Solidarity League of Creative Women Distracted by Oooh! Shiny!
And here's the kicker, my friends. Although I recognize this deficiency in my character, I have been unable to stop. Brace yourselves for some serious yarn pr0n. I've got a dealer, and I'm not afraid to call e-mail her in the middle of the night. It's an addiction, and at this particular moment, I cannot control myself. It seems that the more rules I create, the more lists I make, the more boundaries I set, the harder I fall. And about two months ago, I fell hard.
All of the yarns I'm about to show were purchased from Birds-N-Yarn, my favorite Lorna's Laces supplier. Some were in-stock items, others were special orders. For special orders, send an e-mail to Birdsnyarn@aol.com.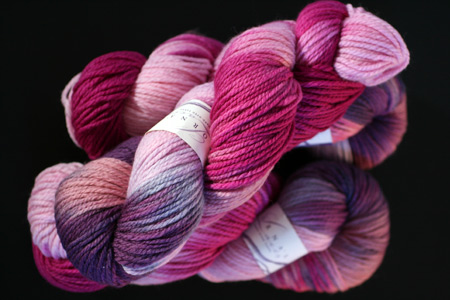 Lorna's Laces Shepherd Worsted | Raspberry Ice | 3 skeins at 225 yards/skein
Remember when I set out to make something from the Wrapped in Crochet
book? The project which intrigued me the most was the Blaze scarf. Why? Because that would be pretty hellish to knit, but is probably a breeze to crochet! I knew I wanted a multi-colored yarn for this project, and the Raspberry Ice colorway, exclusive to Birds-N-Yarn, seemed perfect. Don't you think this scarf would look killer with a black coat? (She asks in mid-April, haha!)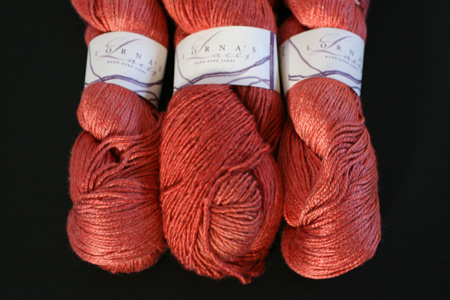 Lorna's Laces Lion and Lamb | Brick (38ns) | 1 skein, 205 yards
So, I think it was Kristy who pushed me over the edge: she knit two gorgeous Side Slip cloches. I love this hat. Just love it. First public proclamation of love: December 10th, 2008. It's about time I knit one, no?!? In choosing a yarn, I wanted something with drape, plus I was willing to spend a bit more since I'd only need a skein or two. Lorna's Lion and Lamb? Why not?!?
I was very indecisive about the color. I wanted something timeless, just like the pale peach one the model is wearing, but I know those kinds of colors (off-white, peach, tan) look awful next to my skin. I went with brick (grapevine and blackberry were the other options I considered). In retrospect, brick doesn't exude an antique feeling, nor is the best color for my skin tone. Oh, well! I know it will still make a fabulous hat :).
Oh! You might be wondering about the other two skeins in the photo. The middle one is the aforementioned Lion and Lamb in brick. The other two skeins are Pearl in poppy, which I showed to you a little while back. They are practically the same color! The brick is deeper and more saturated, but only if we examine it closely. I see a matchy-matchy hat and scarf combo in my future!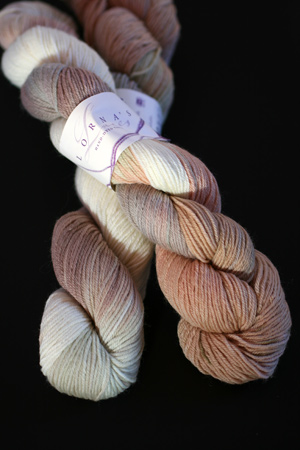 Lorna's Laces Shepherd Sock | Aslan (75) | 2 skeins at 215 yards/skein
When I learned that my mom appropriated the Punctuated Rib socks I knit for my grandma, I decided to make a pair of socks just for her. She said that tans and browns are the most practical colors for her, and Aslan seemed like a good match. I was very encouraged by the Aslan socks I saw on Ravelry – such beauties, all of them! My mom would love a simple pattern like these Glacier Lake socks.
And now I'm trying to assess, do these yarns make me feel better or worse? I feel a bit torn, distracted, and anxious to finish old and start new (but never guilty about buying – that's not in my nature). But I also think these were reasonable, beautiful, and well-planned purchases. Which is not helping the situation, haha!
0
likes