While spending the last few days with my parents and grandma, I was able to sneak a peek into my grandma's sock drawer. Here's what I saw: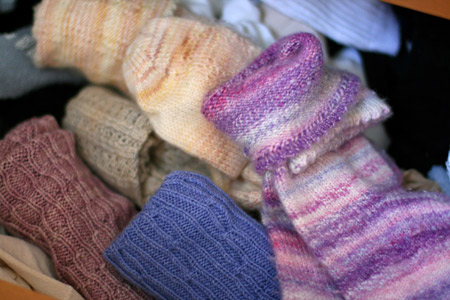 Obviously not all the socks I've knit for her over the years, but interestingly some of my favorites managed to float to the top!
In addition, over the weekend grandma was seen wearing her 68-stitch socks (Lorna's Laces Shepherd Sock in wisteria), and her Belle Époque socks (Colinette Jitterbug).
You know, I love to knit socks. It's as simple as that! I can knit only socks for the rest of my life and be happy. I probably won't restrict myself in this way (I love lace, too), but socks are always a win for me.
I suppose there's only one catch – I need to have gorgeous sock yarns at my disposal… as I clearly do :). At this very moment I have enough Lorna's Laces, CMF Sock Hop Yarn, and various goodies from Crystal Palace to last me a year or two. There are just a few lace commitments to wrap up first :).
Fortunately, no lace could be knitted in the car (I get car-sick if I'm reading a chart), so I was able to immediately follow-up the sock love reminder with actual sock knitting!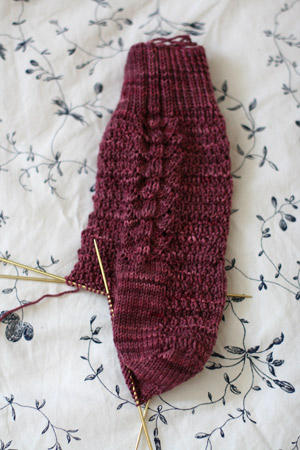 The Child's French sock is growing steadily (now even longer than what's shown in the photo), and this yarn from Ellen's ½ Pint Farm definitely falls into the category of "gorgeous sock yarns."
A little at a time, but always knitting socks.
0
likes