When I showed you the beginnings of my rumpled Tricolor Square (#35) from 200 Crochet Blocks
, I received two types of comments, polar opposites in nature. Some people advised to continue crocheting the rest of the rounds, and that the square would lay flatter once more fabric was added. Others said that no matter the additional crocheting, blocking, steaming, or anything else, it would always pucker.
Only one way to find out!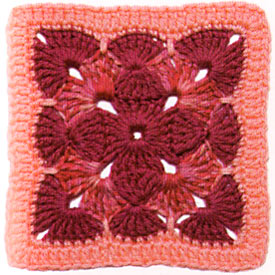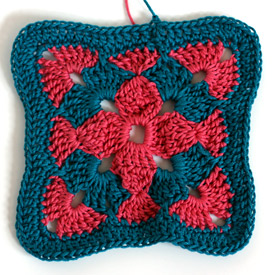 Verdict: the square is definitely flatter than it was in its early stages, but not as flat as it could potentially be.
If I were to choose this motif for my swap submission, I would certainly use three colors, for starters. The long double crochets radiating from the border definitely add something. Plus, I might tweak the treble crochets in rows 1 and 2. These are the stitches which form the center flower, if you will, and they pucker the most. Substituting some of the component tcs with dcs might flatten things out, I'm guessing.
Alternatively I might choose another motif all together! Inspiration and enticement are never lacking over at the swap blog and the Flickr group.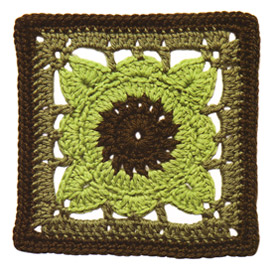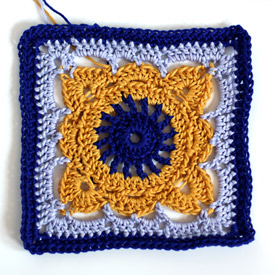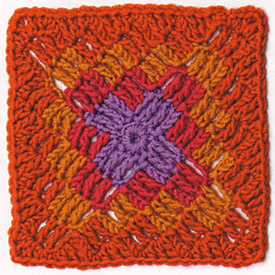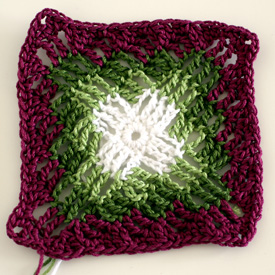 Oops! I might have tried out two more patterns! Silly me! The top is Willow from 200 Crochet Blocks
. It's a gorgeous pattern, plus I think I picked very pretty colors for my swatch, which always helps :). I would happily crochet five of these and line the backs with some solid squares.
The bottom is motif #119 from Beyond the Square Crochet Motifs
. I mentioned earlier wanting to try it, and so I did! It's a very interesting pattern to crochet, easy to up- and down-size (as written it comes out a tad small). It came out very pretty in photos, but I'm not sold on it in real life. It has a very mesh-like consistency, and looks sloppy up close. I'm not sure it's the one.
And because I'm totally bananas, I bought more Tahki Cotton Classic (from left to right: 3456, 3723, and 3940). And crocheted yet another square (Primrose Square from 200 Crochet Blocks).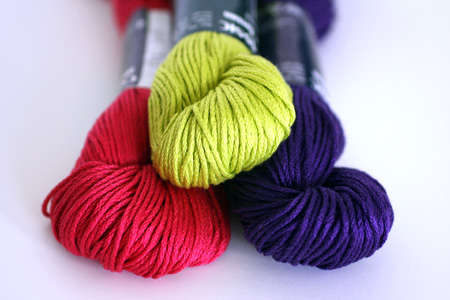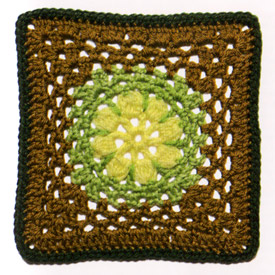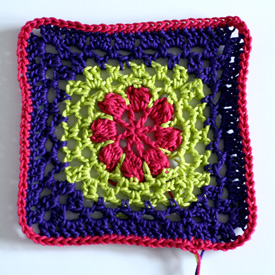 Don't look too closely. This one has a ton of mistakes!
Apparently I've confused the point of the potholder and hot-pad swap. I have misunderstood its intention. I have convinced myself that the goal is to swatch as many motifs as possible, thereby completely overwhelming and over-complicating the choice-making process. Other deadline projects? One word: crochet. Crochet trumps everything.
Seriously. It's time to get crackin'. I've got five potholders and five backings to crochet, and about a month to get it done. It's decision time!
24
likes